Click For Harley Kirsch Highlights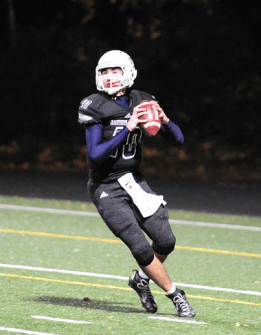 With one of the more impressive sophomore performances, Eastside Catholic (Sammamish, Wash.) QB Harley Kirsch (6'3″ 210 lbs) has started turning heads on the national level.
Helping lead the Crusaders to a second straight state championship game, Kirsch threw for 3,535 yards, 35 TDs and only 3 INTs, while completing just over 70% of his passes. Kirsch finished with an amazing 116 pass attempts per INT ratio.
While is wasn't his first trip to the Tacoma Dome, it was his first as a starter. "It was a really great experience to be in the Tacoma Dome in my first year. As a freshman, I started 2 regular season games early in the year (due to Trey Reynolds being injured) but I only played in the post-season playoff games that were blowouts," Kirsch told NEI. "To help our team get back to the state championship the very next year as a starter was worlds apart. Being a starter during our recent playoff run has helped me personally because I have learned and gained so much experience regarding what tight competitive playoff games are like."
"Going forward when it comes to playoffs, I am not as nervous and anxious compared to when we first entered the playoffs this past season, having never started in a playoff game," he noted. "I also think this experience impacts everyone on the team and gives us a sense of confidence since we have been through it and experienced it. I'm really excited about this coming year."
In early November, Kirsch picked up his first D1 offer when the University of Wyoming made their intentions known. It was a bit of a surprise as Kirsch had spoken to coaches from a few different program, but it didn't seem as though many were close to offering.
"Wyoming showed up on a Friday before my game and talked with Coach Thielbahr and offered me on the spot," Kirsch noted. "I was surprised at how quick it happened and it felt great to know that my work was beginning to show some signs of recognition. I am just going to continue working hard and hopefully a few more offers come my way."
Kirsch is not only a hard worker on the field, as he sports a 3.91 GPA and already has plans to study business finance in college. Right now, he is focusing on school work and an offseason workout plan, with a few recruiting visits squeezed in-between.
"For my off-season plan, we start lifting again when Christmas break is over. Colorado is coming back for a workout in January," Kirsch said. "Our Eastside Catholic team will participate in a local 7-on-7 season in February. In March I will attend the Rivals Camp Series in San Francisco. In April I will be visiting Nebraska, Iowa State and possibly Iowa. Then we are into spring team practice at the end of May thru June."
The Crusaders return a ton of offensive firepower next season, and one of the better offensive lines in the state. Second team All-State member Alex Neale (Jr. 6'3″ 290) teams with Cody Baker (Jr. 6'4″ 255) and Brody McKnight (Fr. 6'2″ 260), who stepped in for Neale at center when he was hurt.
Where the Crusaders will really make their money is at the skill positions, and there aren't two bigger stars than WR Devon Arbis-Jackson (So. 6'0″ 195) and RB Brandon Wellington (So. 6'0″ 210). Both players saw big time minutes this season and are likely All-State candidates next season.
"Devon is an insane athlete and it's made my life a lot easier when he's on the field. He is a big time player who makes big time plays when we really need them," Kirsch said. "Brandon is another amazing athlete that impacts our team in so many ways. During our playoff game against Marysville-Pilchuck, he played lights out on both sides of the ball. He had an interception, 2 rushing TD's, and then caught the eventual 75-yard game winner."
I became more and more impressed with the Crusaders as I saw them play four times this season. With a high caliber coaching staff, and some of the best talent around, they are legit state title contenders, and the play of Harley Kirsch is a big reason why. I look forward to watching him grow over the next few seasons and he makes strides towards becoming the D1 athlete he appears to be.