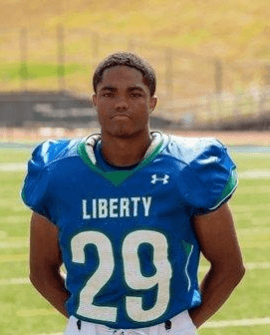 Liberty (Renton, Wa.) RB/DB Russell Boston was a two-way star for the Patriots last season and received First Team All-Kingco 3A on defense and Second Team honors as a running back while leading his team to a 5-5 record.
At 5'7″ and 160 pounds, Boston isn't the biggest prospect on the field, but he plays much bigger than his frame would suggest. He totaled 800 yards and nine touchdowns on the ground and hauled in 14 receptions for over 200 yards and a touchdown through the air and on defense he managed to rack up 45 tackles (37 solo), a forced fumble and an interception.
"I was named First Team All-Kingco 3A as a safety and Second Team at running back," Boston told Northwest Elite Index. "I like to play both, but if I had to choose one, it would probably be running back.
"I just love to have the ball in my hands and knowing where I'm going. I can run inside or outside, but most of my yardage came in-between the tackles."
With the offseason already underway, Boston admits he knows he has some things to work on for his senior year.
"I want to improve as a blocker and work on my technique," Boston said. "I need to 'stay in my base' better and not reach too much and then control the guy. I also am working with a personal trainer on getting faster. I'm doing speed drills and making sure there is no wasted motion."
As far as recruiting is concerned, it's still in its infancy for Boston, but he has been hearing from a few schools.
"I get emails from schools mostly," Boston noted. "Whitworth, Colorado State, Northern Arizona, Missouri, Eastern Washington, Utah and a few other schools."
With his size, Boston might go overlooked by some of the bigger schools, but that would be a mistake. He plays with a big heart and little fear. He loves to play the game and expects an even better senior season.
"I have goals for me and for my team," Boston said. "I dream big and I play big. I feel like it's going to be a great offseason and that we're going to have a big season next year."