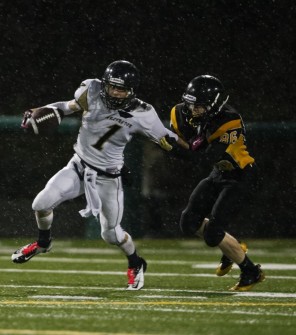 Working with the Northwest's top athletes we get to meet some pretty amazing people. Some have overcome incredible odds to get where they are, then there is the story of Arlington WR/DB Max Gray .
When I got word that Idaho State had offered Gray, it instantly put a smile on my face. Since I first met Gray and his father (Bill) after a team scrimmage, I have been quietly rooting for the athlete that is probably best known for the term "Take No Days Off".
"It feels amazing. It gets tough after a while of waking up at 4:30 in the morning to go to the gym and to constantly keep working on my football skills day in and day out not knowing when or if I'd ever get that first offer," Gray said of his offer. "Especially when it seems like everyone is landing not their first, but second, third and fourth offer, but now that it's here it just gave me another boost of motivation to work harder."
"I hope I've been able to show younger and fellow athletes that anything is possible and even if you don't have an offer right now don't lose hope because everything is going to happen the way it is suppose to and if you're suppose to get an offer, it will happen. TNDO!"
After another strong season, Gray was voted first team All-Wesco at WR and was named All-Area by the Everett Herald as an Athlete. He did a little bit of everything this season for Arlington and finished with 596 yards receiving, 242 yards rushing, and threw for another 106. He also had 45 tackles and 2 INTs on defense.
Speaking of how his offer came to be, Gray says, " I started talking to Coach Cross right before last summer's Rough Diamonds College Showcase and I heard rumor he was going to be there so I knew I had to go all out."
He continued, "After the camp was over he talked to me about hopefully being able to offer me later on in the future after finalizing things with all of the other coaches. We've stayed in close contact ever since. Finally he asked to meet somewhere so we did at a local Starbucks. Basically I got an offer, we are still going through the scholarship details but I have a spot on the team if I decide to go there."
Kudos to Max Gray, and a big shout out to the Idaho State coaching staff who made a great decision.
We will continue to keep you updated on Gray as signing day nears and he gets the pen ready to put his name on a National Letter Of Intent to play college football.