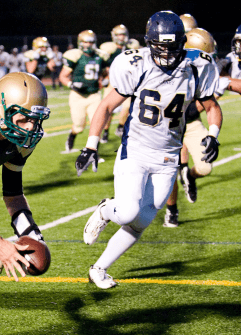 If you are looking for the top Sophomore D lineman in Oregon you may want to check out Canby High School. Tony Kraus (6-3 235 DE) went off in 2013, helping his Cougars reach the 6A State Semi Finals, while racking up 1st team all league honors in what amounted to the state's toughest conference.
His performance on the field only confirmed what most thought as Kraus brings legit size and overall athleticism to the table. The respect given to him among TRL opponents was very apparent, as its rare to see a sophomore get consistently double teamed. He comes from a football family with his brother Zach (6-2 275 Sr. C/OL) being one of Oregon's top offensive lineman, and a 1st team all league kid himself.
Tony accumulated 36 total tackles, 6 hurries, 3 fumble recoveries, 2 pass deflections, and a sack on the season, with 5 solo tackles against Jesuit in the Semi's. The younger Kraus showed up at our Portland Elite Events as a freshman and was very impressive.
His teammate and one of the state's top players Sam Bodine (6-3 215 Sr. LB) says, "He's very coachable and the type of kid you only have tell something once". Adding, "Tony is also extremely humble and can be as good as he wants to be, I expect great things from him."
Kraus shows off his overall athleticism on the basketball floor, as he is a dual threat varsity athlete. He projects at the D1 level and will be a defensive player of the year candidate in the TRL next season. We look forward to seeing Tony over the off season and will bring you updates as they happen.