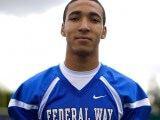 Federal Way (Wa.) ATH Keenan Curran decided on Tuesday where he wanted to play his college ball and that will be at San Jose State starting in the fall.
"I have officially committed to further my education and play my college football at San Jose State University," Curran said via Twitter. "I feel so relieved that me and my family are happy and that I get an opportunity to fulfill my dreams next year."
Curran chose the Spartans over offers from Air Force, Eastern Washington, Idaho and Wyoming.
The talented prospect played both ways for the Eagles this past season, leading the team on offense from the quarterback spot while playing corner for them on defense.
He is a lanky athlete, measuring in at 6'2″ and weighing 170 pounds. Curran possesses a lot of athleticism and playmaking abilities and it will be interesting to see how the SJSU coaching staff decides to use him.