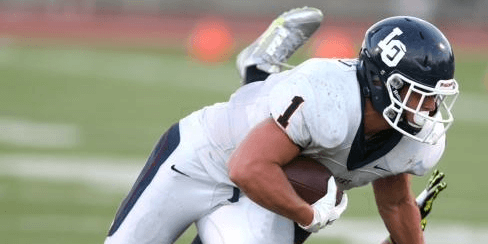 For the last three years Nick Underwood has been one of the top LB's in Oregon. On Tuesday he made his intentions known committing to the U.S. Air Force Academy over a host of other D1 schools.
Underwood had been offered by the likes of UNLV and Portland St, but found Air Force to be a good fit saying, "Selecting my future school was both exciting and tough, because academics and football are equally important to me". Adding, "It's nice to be wanted and the academy was very clear about their level of interest in me."
Nick was 3 year all league starter, playing in back to back state title games in 2011 and 12′. He earned 1st team all league honors as a Junior and Senior, being ranked among the top backers in the west.
Playing for one of the better high school programs in the country was a big deal as Underwood says, "Steve Coury and the entire coaching staff have always stressed the fundamentals of developing players who are leaders of character with a focus on family, team, and community involvement". He continued, "I am thankful for their leadership and integrity and look forward to making future contributions to youth and high school football."
Nick has been training with us at the football academy for a number of years, and ran the fastest 40 time (4.50) among 130 athletes at our Salem Combine saying, "The high performance training from Barton Football over the years has been a difference maker and a key factor to success in my high school football career."
We have said time and time again you would be hard pressed to find a better kid and things haven't changed. Underwood is an individual that will do well in life, and also get to fulfill a dream of playing at the highest level of college football. Referencing the future he says, "My plans for right now include finishing strong in the classroom and working out everyday to prepare for next season…. I am excited about my future with the Air Force and thankful for the opportunity that I have been given."