Click for Raemo Trevino Highlights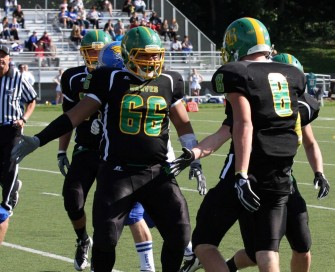 The State of Washington has been producing some very good lineman the last few years. A player to keep an eye on is C/DT Raemo Trevino (6'0″ 260) of Bishop Blanchet.
While he may not have they eye popping height that most people look for, he has a nastiness that you really can't teach. This season Trevino was voted first team All-Metro on the defensive side, and second team for his work on offense.
"It's an honor. It just shows the hard work I've put in the off season and I'm being recognized, but I couldn't have done it without my teammates and my family," Trevino told NEI. "They push me to be better then them and to be a better person. I'm truly humbled that I could be named to these all league teams. It also shows that my coaches have taught me and I can transfer what they are teaching me onto the field."
Right now Trevino sports a 3.0 GPA, and plans on running track this coming spring to work on his speed and explosiveness.
"My goals for the offseason is to get better grades in school because that's always first before sports, but also to get stronger in the weight room, get faster," Trevino noted. "I want to go to camps to show my skill level and get noticed by colleges. But overall just become a better football player."
Being just a sophomore, recruiting is light, but it will surely be picking up. He understands the value of hard work, and has passed some of that on to his teammates. Head Coach Aaron Maul has built a solid foundation, and the players are buying in.
"Our team goals are to win metro league this year, make it to playoffs and win in playoffs, but to become the best team we can be. Then also have our head coach win head coach of the year for Metro," Trevino noted. "We plan on accomplishing these by getting stronger, faster, getting into our playbook, and just being dedicated to football and what our coaches are teaching us. Then being responsible for our selves and our team. Then pushing each other to strive for our own goals as well."
The Braves return plenty of talent next season, but do lose some real quality players to graduation, as they attempt to meet their goals. Sophomore RB Oshea Trujillo is absolutely electric and one of the top backs in the 2016 class. He is a threat to score on literally every play.
I look forward to following Trevino as he is an athlete I fully expect to rise over the offseason. With a good set of goals in front of him, and the right mindset, the sky truly is the limit.