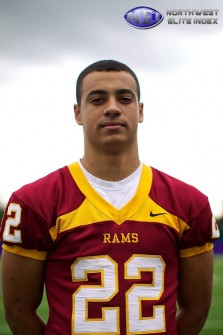 Cameron Scarlett is one of the better Junior running back's in the country and Thursday he received his first D1 offer from Oregon State. The kid from Central Catholic is fresh off a state title and a 1st team all state season, accounting for 33 TD's and 2, 874 all purpose yards.
Cam has D1 genes as his brother Brennan was a player of the year in Oregon, now at the University of California. Referencing the offer he says, " I was told it would happen soon and called Coach Riley today (Thursday), and when speaking with him he offered me a full scholarship to Oregon State". He continued, "I went to camp with them in the summer and have been in touch for awhile… I was super excited and it was kind of a relief to know that I got that first one."
Scarlett is ranked the #1 recruit in the state for the 2015 class, and will most likely see a plethora of additional offers come in before all is said and done. He averaged 11.63 yards per carry, rushing for 1640 yards, and 22 TD's on the season. Cameron was also one of the better receiving backs that Oregon has seen in some time, catching 33 passes for 674 yards and 7 TD's.
On top of the receiving and rushing he was maybe the state's top kick returner, accounting for 560 yards and 4 touchdown returns on the year. All of this said as you won't find a much more humble and appreciative kid. Scarlett will attract a variety of different D1 school's including high end academic institutions as Stanford came out to watch him play this past season.
Cam put the explanation point on his 2013 campaign with his 356 yards rushing and 6 Td's, on 15 carries, against an undefeated Tigard team in the semifinals. Coach Riley and the OSU staff do a phenomenal job, as the Beavers goy maybe the steal of the year thus far in senior RB/LB Ryan Nall (6-3 230). We will look forward to bringing you updates on Scarlett as the off season continues.