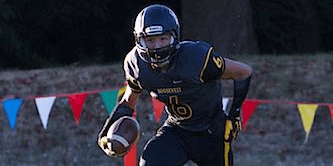 One of the top senior's in Oregon over the course of the 2013 season was senior James Schell-Buchanan (6-0 190) of Roosevelt. He was selected a 1st team all league kid on both sides of the ball, and earned 1st team all state WR honors and 2nd team all state DB accolades. He was also named the team MVP.
James was a three year starter for Christian Swain's Roughriders, who won the (5A) P.I.L. and advanced to the state quarterfinals, losing in a nail biter to an undefeated Ashland team.
Schell-Buchanan accumulated 75 total tackles and 5 INT's finishing as one of the school's all time leading tacklers, while catching 35 balls for 980 yards and 10 TD's . He also had one of the better off season's of any player in the 2014 class. His performance at our Salem Camp/Combine was one of the most impressive on the tour among hundreds of the Northwest's best.
Referencing what he is doing now he says, "Things have been good since the loss to Ashland, I've been training and working hard for next year just trying to get an upper hand". Adding, "I've been talking to pretty much every team in Big Sky, with most of the interest coming from Montana St, PSU, and Idaho State."
James is a talented kid on and off the field, which only helps support his case as one of the top athletes in the state without an offer. He holds a 3.3 GPA taking AP Classes and consistently works as hard as anybody. Every event we hosted last season the kid proved he was real.
Watching his video you see him lock up Arizona commit Jordan Morgan and Pacific Conference Player of the Year/E.Washington commit Manu Rasmussen. Whatever team takes a chance on him will get a kid that is dedicated and worthy on and off the field. We will bring you updates as they happen as Schell -Buchanan's stock continues to rise.