Click for Eric Ledesma Highlights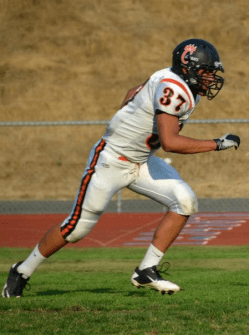 On the Peninsula, prospects can go a bit overlooked, but Central Kitsap (Silverdale, Wa.) LB Eric Ledesma, a 2015 prospect, could help change that pattern after he put up some big numbers this past fall.
"I had a good year personally and that helped me team have a good year too," Ledesma told Northwest Elite Index. "I've always been coached to be around the ball and I want to help my team win and when I get to the ball I need to make the play and stop the ball-carrier."
As a junior this past fall, Ledesma put up huge numbers, posting 98 tackles (47 solo) as well as five sacks and was name a First Team All-Narrows League performer.
"It was a great honor, but I'm not into individual stuff," Ledesma said. "I want to help my team as much as I can. If that means I have to make the play, then I can do that, but if that means I have to take on a blocker to help set my teammate up, then that is great too."
At 6'1″ and weighing in at 220 pounds, Ledesma is the perfect fit inside for Cougars who finished the 2013 season with a 7-3 record.
"I take on blocks well and I read things well," Ledesma said. "I like to play down hill and get in and make the hit on the guy."
On the recruiting front, Ledesma is just now starting to hear from schools and said a handful were by during the fall to check him out and talk to his coaches about him.
"Central (Washington) dropped by and there were a bunch of D-3 coaches that stopped by and talked to me and my coaches," Ledesma recalled.
He has yet to make any plans for camps, but said he hopes to get in front of as many coaches as possible and will also attend the Central Washington camp in Ellensburg with his team for their annual trip.