Click for Brady Widner Highlights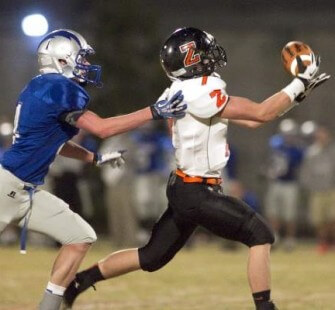 When you watch as much film as we do at NEI, every now and then you come across players that can just flat out play. That was the case one year ago when I came across Zillah WR/DB Brady Widner (5'11" 175).
While this season may not have ended the way Zillah would have liked (9-1), Widner was well recognized for his outstanding play. He finished the season with 14 receiving TD's, 5 Return TD's and 4 INT's and the Associated Press voted him as the Co-1A State Player of the year, with Markus Goldbach of Freeman. He was also voted at a 1st team All-State member at Wide Receiver, Defensive Back and Kick Returner.
"After my freshman year of primarily JV I wasn't really thinking to much about ever becoming a Player of the Year," Widner said. "I feel honored and it's humbling to be awarded something like that, I feel that all of the extra time and effort got recognized."
This is the second straight year that Widner was recognized by the state's media. As a Junior he was voted 2nd team All-State at Wide Receiver, and 1st team for his work at both Defensive Back and Returner. He finished his junior season with 728 receiving yards, in a run heavy offense, and had a total of 15 TD's.
Widner is also a good basketball player for the Leopards, and sports a 3.465 GPA, but recruiting has been scarce. "Nothing yet, I'm hoping I do because I want to continue playing football so bad," Widner said. "If I don't get offers to play anywhere I am thinking of either attending Washington State University or University of Montana as a student."
It is difficult to not root for athletes like Widner. His work ethic is second to none, he just needs to find a college willing to give him a shot. We will be sure to keep you updated as Widner searches for that coveted offer.