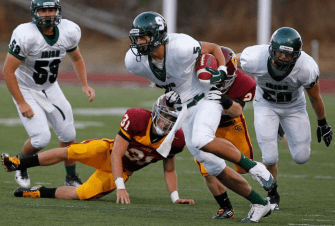 As signing day draws near more of the Northwest's top kids will be making their decisions on where they will attend school. Just recently two of Oregon's featured athletes made their intentions known committing to Big Sky Universities.
Mitch Herbert (6-4 205 Sr. WR/S) of Sheldon HS in Eugene committed to conference power Montana St, after a phenomenal 2013 campaign where he accounted for 21 total TD's (15 receiving, 6 rushing) on 77 receptions for 1073 yards. Herbert was ranked our #2 receiver state wide and also excelled on the defensive side of the ball.
Herbert projects as a receiver, but is very capable of being a legit safety at the next level as well. Referencing the offer he says, "I went and visited Bozeman last weekend and loved it, the coaches and players were great and I knew it would be a perfect fit." Mitch went off statistically and was a runner up player of the year in the SWC. He is a class kid and fit the Irish program to T, under one of the most respected head coaches in the country in Lane Johnson.
We will hear a great deal from Herbert at the college level, while his last name will live on in Eugene with his brother Justin Herbert (6-4 170 So. ATH) being one of the state's top players for the 2016 class.
Closer to Portland, Clackamas standout Brody Haehlen (6-4 250 Sr. DE/TE) committed to an upstart Northern Colorado program over Montana and Idaho St. Haehlen took his official visit and loved the staff and what they had to offer. Brody was one of the top two way threats in Oregon, playing with a no non sense type approach.
He was an all league kid on both sides of the ball, catching 28 passes for 391 yards and 3 TD's. He was also a game changer defensively accounting for 56 total tackles, 5 tackles for loss, 8 hurries, 2 pass deflections, and 2 forced fumbles.
Brody's the kid that everyone wants on their team as he is more then willing to go to war for his guys. His accolades run deep as he was a key member of our 7 on 7 Las Vegas travel squad, and our Team Oregon group that beat Alaska in the Winter showcase.
Congrats to both of these kids on their achievements. Each will be big additions to their Big Sky college football programs.