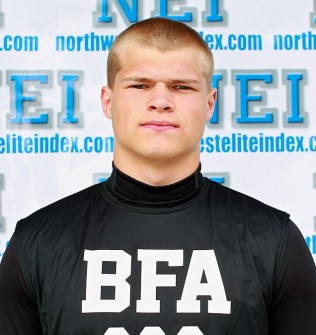 We've been talking about Aberdeen (Wa.) LB/DE Joel Dublanko for a while now and things just continue to heat for the talented 2016 prospect. He spoke with Northwest Elite Index recently and gave us an update on what's been happening including which Pac 12 school became his most recent offer.
"Things have been pretty good. My season ended so I have just been working out and working on things for next year," Dublanko told NEI after a recent Barton Elite Event at Cedar Park Christian in Bothell. "I have offers from Mississippi State, Akron and Montana and I just got one recently from Washington State.
"They offered me before the break and I went to a game this year when they played Utah, so it was a good time and a good visit."
As far as Washington, a school Dublanko has been interested in since the beginning, he hasn't spoken to the new coaches, but said that will likely change in the coming weeks.
"I haven't talked to them yet, but the plan is for me to go up there either after the break or when they have finally gotten settled into things there."
Dublanko said he's started to work out and itinerary but nothing is set in stone for which schools he will visit, but with offers from schools outside of the region and interest from schools across the country, his frequent flyer miles could see a huge boost.
"As far as camps, I'm thinking of hitting an Oregon camp and then a Stanford camp for their junior day and stuff like that," Dublanko said. "I'm not really sure what schools I will visit yet, but I know we are looking at taking some visits to different schools and seeing what they have to offer."
At 6'3″ and weighing in at 225 pounds, Dublanko is a specimen after finishing his sophomore season. He's a dominant athlete with the skills to play on either side of the ball although most see him playing defense at the next level.
He totaled over 100 tackles for the Bobcats while also playing some fullback and even quarterback after their starter went down.
Dublanko is easily one of the top recruits in the state of Washington and the entire Pacific Northwest for the 2016 class and we will obviously continue to keep track of his progress through the summer and see where things stand as far as offers are concerned once he starts his junior season.