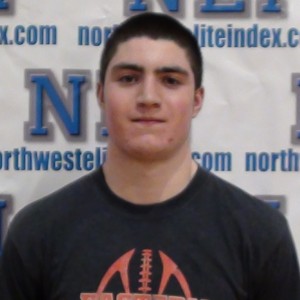 As the 2013 season went along, one of the more impressive athletes was O'Dea senior Jack Flor (6'2″ 215). He helped lead the Irish to the semi finals at the Tacoma Dome, and an overall record of 12-1.
With his latest D1 offer, Wyoming, Flor now holds offers for both sides of the ball. Flor finished his senior campaign with 103 tackles, 56 solo, 11 tackles for loss and five sacks. He also rushed for 773 yards on just 75 carries and 12 touchdowns. He was voted first team all-league on both sides, won the league defensive MVP and was also named first team All-State by the AP.
"I am pretty excited about my offer from Wyoming. Coach Pete Kaligis offered me a couple of days ago," Flor told NEI. "I had been talking to the old coaching staff at Wyoming throughout my whole season, but communication ended after the coaching staff change occurred. I honestly thought that that door was closed since all of the coaches that i knew had left and I hadn't heard anything from them."
Flor continues, "I was very surprised when I got the phone call, and maybe even more surprised when I was offered at h back. This is my first offensive offer and that is pretty exciting. I really don't have a preference which side of the ball I play on, but there's really nothing better than laying a nice block."
Right now Flor is taking it one day at a time. He has recruiting visits set up for Air Force (this weekend) and Wyoming (the following weekend), but isn't ready to commit to anything.
"I am looking forward to getting a feel of these two schools, especially because they're pretty different. I mean the overlying fact about Air Force is that it is a military academy, and I think it is going to be interesting to check that out and see what it's like," Flor noted. "I am also looking forward to going to Wyoming and meeting their coaching staff and checking out the school. I have never been to either so it will definitely be a cool experience."
Flor is what you could consider to be the model student-athlete. He has lettered in track since his freshman year, and played basketball up until this season. Flor also carries a 3.62 GPA while taking honors classes and AP Latin. He is the ASB President, a member of the Latin Club, Honor Society and is a Link leader.
When Flor does make his decision, someone will be getting not only a great football player, but a great person. We wish Jack all the luck and will keep you updated on his decision.