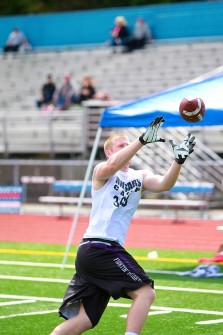 Last year, one of the top multi-purpose tight ends in the state of Washington was Kamiak (Mukilteo) TE Henderson Belk. After a solid senior season, he started to garner attention and, while on a trip to visit Eastern Washington, he made the decision to join the Eagles.
"I just committed (to Eastern) about an hour ago actually," a happy Belk told Northwest Elite Index. "The people here are really welcoming and the staff here is top notch. I just loved everything about it and know that I made the right choice."
As a senior this past fall, Belk played both ways for the Knights, hauling in 25 receptions for 500 yard and seven scores, leading the team in each category, while also totaling over 75 tackles and six sacks on the defensive side of the ball. He earned First Team All-Wesco 4A honors and that has led the Eastern defense and offensive staffs to wage a bit of a tug-of-war for his services.
"Right now I don't know if I'm going to play tight end or defensive end. That's sorta going on right now between the two parts of the staff. They are sorta wrestling over me," Belk said with a chuckle.
In addition to his offer from Eastern, Belk has also been hearing from Central Washington and he said that Northern Colorado has asked him to come on a visit, but that won't happen now.
At 6'4″ and weighing in at 235 pounds, Belk is an outstanding talent with soft hands and good speed. He appears to be a better fit on offense, but he will be successful on either side of the ball.