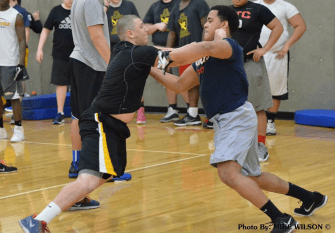 One of the more respected programs and coaches in the state of Oregon is Diallo Lewis and his Grant Generals. All things considered they have been the most successful football school in the City of Portland over the last decade and a half.
He has helped groom a host of D1 and NFL kids with the likes of Ndamukong Suh, Kenneth Acker and countless other collegiate level talent. This upcoming season should be big as the Generals return some talented senior's and a promising younger group. Chris Lewis (5-9 160 Jr. ATH) , Sam Davis (6-1 185 Jr. QB), D'angelo Penn (6-2 240 Jr. DE), and Dominique Penn (6-1 200 Sr. LB/RB) will be four of the top upperclassmen. They all rank as some of the top athletes in the state at their position.
Grant featured some of the top kids at last weekend's Barton Football Academy Elite Event. Chris Lewis was one of the breakout performers among the 95 athletes in attendance. As the son of a head coach, football is in his blood as he says, "Playing for my dad has been a great experience, I feel like he took a chance on me starting this year and that he recognized the hard work that I had put in."
Lewis had a successful 2013 campaign and will come back ranked one of the top slot backs state wide. Referencing last season he says, "I would like to have double digit TD's and help lead my team to a PIL/State title." Lewis referenced his teammates Sam Davis, Domo Penn, and D'angelo Penn as being some of the top players in the state.
Davis did well last season, doing it through the air and the ground. He was one of the PIL leaders in multiple statistical categories and will be in his 3rd year as the starter coming into 2014. Sam looked polished at last week's elite event and will be the key to the Generals success next season.
D'angelo Penn (6-2 240 Jr. DE) had a breakout performance last weekend and should be one of the top D lineman in Oregon. He went toe to toe with 1st team all metro lineman Nick Miller (6-3 265 Jr.) of Jesuit, proving that he was a force to be reckoned with on a state wide level. He may project as more of an outside backer at the collegiate level, but regardless the kid is very talented.
His brother Dominique (6-1 200 Jr. LB/RB) has been an all PIL kid for the last two seasons and is ranked among the top linebackers in the Northwest. If the last name sounds familiar you will most likely remember standout QB Paris Penn from a few years back, now at Portland State.
The Generals have had some very successful groups including most recently (Paris, Jamarr Graves, and the Halverson brothers). Last season was somewhat deceptive as Grant played an independent schedule against some of Oregon's best, including league champions Oregon City, Sprague, and Central Catholic. If Grant was playing an all PIL lineup they would be routing most.
Jovon Lewis (Jr. ATH) and Da'marea Stigler (Jr. DB) are two other very talented junior's that will need to step up next season. All of this said as Coach Lewis and his guys continue to do things the right way, producing good kids on and off the field. With Grant's 6th grade team winning the national title a few weeks back, you can expect to hear a lot more from the Generals. We will keep you updated as the off season progresses.