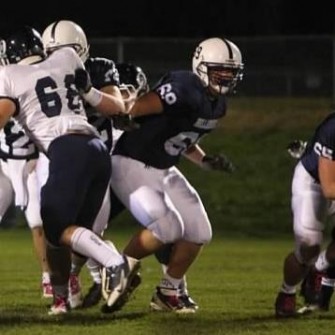 It's pretty rare for a sophomore to earn All-Narrows honors, but that's exactly what happened with Bellarmine Prep (Tacoma, Wa.) OL Paul Gicewicz and he appears headed toward being one of the top in-state offensive linemen in the 2016 class.
The 6'5″, 290-pounder started nine games for the 10-3 Lions this past season and attributes his quick feet and leg-drive to his other sporting ventures.
"I play basketball and lacrosse and those require you to have great footwork in order to be good, so it's something I have had to master and that has helped me a lot," Gicewicz told Northwest Elite Index recently. "I also play ice hockey for some club teams, so that really helps your lower body get stronger and that also has helped me a lot."
He earned Second Team All-Narrows honors, accolades very few sophomores recieve, but he said that the recognition will not make him complacent this offseason.
"I'm staying in shape with all of the sports I play and then I am also working on my overall game and my technique," Gicewicz noted. "I want to work on my overall speed so I can get faster. I'd like to be better at pulling and getting my speed better will help with that."
As far as recruiting is concerned, Gicewicz's stock is just now starting to climb as he's starting to put himself on some radars and he hopes to hit some camps this spring and summer to get his name out there even more.
"Growing up, Stanford and Harvard were schools I always liked," Gicewicz admitted. "My dad played at Harvard, so that's my connection there and with Stanford, they are a great academic institution and they have a great program there. They are producing a lot of NFL guys, but they also get you ready for life after football and that's huge."
It will be interesting to see which camps Gicewicz hits this summer and how he develops over the next year. He's a big-time talent with a high upside and we will continue to keep track of his progress and we will update news on him as it happens.