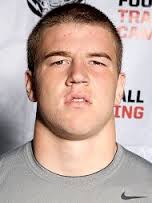 One of the top lineman in Oregon made his senior year count racking up award after award on his way to an outstanding 2013 season. Tyler Cox (6-3 250 OL/DL) of Southridge was named a unanimous 1st team all league lineman, while racking up honorable mention all state honors and a spot on USA Today's All Oregon team.
Cox has committed as a "preferred walk on" to one of the fastest rising D1's in the country in Utah St, but is also currently being courted by multiple Big Sky school's that have him on the scholarship bubble. Northern Colorado has shown significant interest with Portland St and Idaho St getting in the mix as well.
Speaking on his commitment to USU Tyler says, "I love everything about Utah St, the school, the program, and all of the coaches." Cox excelled at the Aggies summer camp and is a guy that they could see earning a scholarship offer in the near future. He will get every opportunity to step in and prove himself once he gets situated.
The Skyhawks finished the season (7-4), losing in the 2nd of the state playoffs. Cox was a huge bright spot for the Metro League power as he excelled on and off the field. Former All American and current Southridge O Line coach Brian Cassidy helped groom Tyler over the last two seasons.
He is a kid that brings a lot to the table on and off the field as he is a talented wrestler, and someone that could potentially break the all time school record in the discuss later this season. Even more importantly is the work that he has done inside the classroom with his "adaptive special needs course". He has enjoyed the experience so much that he is looking at potentially double majoring once in college in both exercise science and special ed.
Two years ago Tyler started attending our Barton Football Academy sessions and never missed a workout. Week after week he came back and went toe to toe with the likes of Brayden Kearsley (6-5 300 OL-BYU) and Andrew Kirkland (6-5 310 OL-Washington). He lost some battles but never gave in to what were much bigger lineman. His desire from day one was very apparent and something you can't teach.
Referencing the past year and his time at Southridge he says, "I feel like I had a good season with over 50 pancake blocks, as coach said I was used more like a weapon then a blocker". He added, "I got to a pull a bunch and we as a line only allowed 5 sacks all season." Tyler has an outstanding support system at home and legit size within the family. He will project as a center/guard at the next level, depending on how much bigger he get's.
Cox is the type of kid that makes what we do at BFA and NEI worth it. We will look forward to watching him at the next level and can't say enough good enough things about the kid that he is.