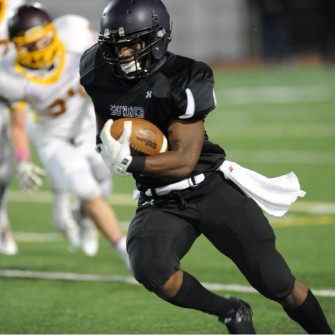 Early in 2012 a player popped onto the scene that nobody knew about. He had moved from out of the country, and quickly became known as the "Canadian Ghost". Now following two brilliant seasons, DeJon Lynch (5'11" 215) is still looking to find a pace to call home in 2014.
Lynch was speaking with Simon Fraser University, but following the season that coaching staff was let go. "I'm hearing from a few Canadian schools and a few D-3 schools near Washington that have shown some interest, but no offers in stone yet," Lynch told NEI.
Statistically speaking, 2013 was a success for Lynch, who rushed for over 1,500 yards and 23 TDs, while averaging over 10 yards per carry. The Spartans were the SPSL Champs and finished with an 11-1 overall record. Lynch was voted as the league's offensive back of the year, and was also named to the Tacoma News Tribune's All-Area Team.
"Senior season went great, it didn't end exactly how I wanted it too, but looking back on it it's hard to be happy with a season we had," Lynch said. "I give all the credit to the coaching staff for working with me these last few years Andy team mates especially the o-line and all of them for making me better and welcoming me to their team last season."
For now Lynch is staying is continuing to keep is 3.4 GPA in good standing, while also keeping in shape and lifting weights. He will be running the 100 and 200 meter sprints for the Spartan Track and Field team this spring.
"Honestly what I'm looking for in the next level is a chance," Lynch noted. "I just want a chance to be able to play the sport I love, go to school and at the end of the day be happy with the effort I put in no matter the result."
I am a big fan of the Canadian Ghost and wish him the best of luck. Someone will be getting a good football player.