Click to view past Vegas Highlights
Exciting news as we at Barton Football will once again represent the state's of Oregon and Washington in Las Vegas at one of the top 7 on 7 tourney's nationwide. This will be BFA's 4th year representing the region, with Kashann Simmons and Baron Flenory (Pylon Sports) doing a phenomenal job of bringing in the top talent from across the country. 54 teams participated in last year's tournament with a 100+ high school teams coming this season.
Some of the top 7 on 7 teams in the U.S. will be in attendance including Team 19, the South Florida Express, Team Tampa, The Goon Squad, and the traditional power out of Utah. Snoop Dog's group has been one of the best in the tournament over the years and that trend should continue.
The event will take place in March at All American Park, with 5 turf fields where high school and youth teams will be competing. A major feature that everyone is stoked on is the return of the big man competition, as we will also be bringing a select group of the region's top big men. Tournament director Simmons says, "People kept asking about the line event so we felt the need to bring that back." There will be a two hour session each day where the lineman will compete.
Adding on to his thoughts Simmons says, "This years 7 on 7 tourney will be epic due to the amount of teams participating". He continued, "We are excited that the teams will be wearing the soft shell helmets to keep the players safe, we are the only camp in the country to make them mandatory."
Elite media will be in attendance from all over including ESPN, Scout, Rivals, 247 Sports, and a host of other outlets. Team Oregon went (5-1) last season, winning their first 5 games and allowing the fewest points in the tournament, before losing to Utah in the quarterfinals.
The competition is something that allows our Pacific Northwest athletes to show that they belong on a national level. Check the documentary attached above from the 2012 event as it gives a glimpse of what to expect over the weekend. Invites will be distributed over the next few weeks, as our elite events will serve as a way for us to further evaluate the top talent within the region.
Listed below are the individuals who are now playing D1 ball or are committed. These athletes have represented the Barton Football Academy over the last few seasons in Vegas and raised the bar. We are excited to get back as this year's tourney should be the best one yet.
TEAM OREGON / WASHINGTON 2013 (D1 Commits) Pictured Below
Keenan Curran (Air Force) Federal Way, WA
Chico McClatcher Multiple Pac 12's Wash, UCLA, Ariz St, Utah, WSU + Boise St Federal Way WA
Myles Gaskin (Washington-Commit) O'Dea, Wa
Conner Baumann (E.Washington) Newport, WA
Manu Rasmussen (E.Washington) Tigard, OR
Sam Bodine (Portland St-Offer) Canby, OR
Brody Haehlen (N.Colorado) Clackamas, OR
Nick Underwood (Air Force) Lake Oswego, OR
Aidan Wilder (Portland St) Central Catholic, OR
Mitch Fettig (E.Washington) Olympia, WA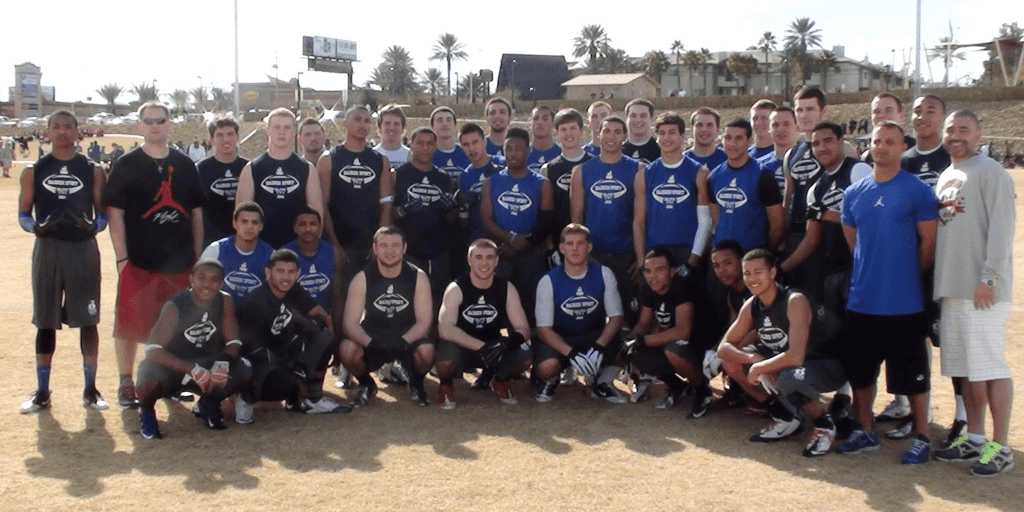 TEAM OREGON 2012 Alumni- Pictured below (D1 Commits)
Tanner Shipley (Boise St) Wilsonville HS
Johnny Ragin (Cal/Oregon) Wilsonville HS
Connor Strahm (Montana) Sheldon HS
Dallin Leavitt (BYU) Central Catholic HS
Wyatt Houston (Utah St) Horizon Christian HS
Nathan Halverson (SMU) Grant HS
AJ Glass (Princeton) Jesuit HS
James Banks (NMMI JC/Multiple D1 offers) Sheldon HS
Jimbo Davis (Nevada*) Mount Si (WA) HS
Griffin McClain (Oregon St*) Mount Si (WA) HS
Jake Hoffman (Eastern Washington*) North Valley (WA) HS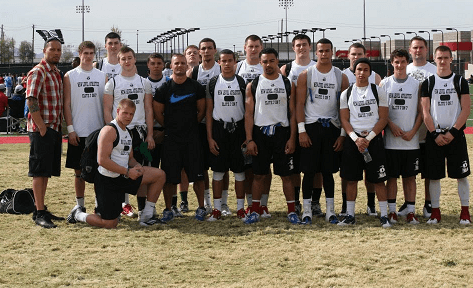 TEAM WASHINGTON 2012 Alumni (D1 Commits)
Isaiah Brandt- Sims (Stanford) Wenatchee
Sammie Long (Colorado St) Lakes
Tere Calloway (Nevada) Seattle Prep
Kahlil Dawson (Portland St) Graham- Kapowsin
Nic Sblendorio (E.Washington) Skyline
Calvin Chandler (Stanford*) Bellarmine Prep
Mike Tate (San Jose St) Federal Way
Billy Green (BYU) Kings
Micah Breland (Idaho St)
Kolney Cassel (SMU) Eisenhower
2011 WASHINGTON ALUMNI (D1 Commits)
Keivarei Russell (Notre Dame) Mariner
Jeff Lindquist (Washington) Mercer Island
Michael Rector (Stanford) Bellarmine Prep
Caleb Smith (Oregon St) Kentridge
Caleb Saulo (Oregon St) Kentlake
Tyler Hasty (Oregon St) Bellevue
Cedric Dozier (Cal) Lakes
Trent Sewell (Wyoming) Bothell
Eric Lemke (Idaho) Issaquah
Jayshawn Jordan (Idaho) ODea