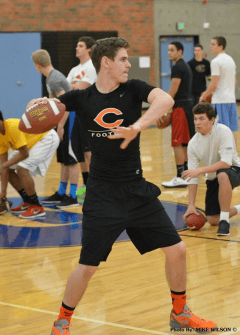 Get used to the name Chase Warren (6-1 1/2 175 Fr.) as he will be one of the top quarterback's in the Northwest for the 2017 class. The kid out of Crater HS (Central Point, OR) has looked the part and then some, and he is just getting started.
Warren impressed as an 8th grader on the Barton Football Camp and Combine tour as he embraced the training delivered by Taylor Barton and Alex Brink. He is a kid with size that has shown a passion for the game that very few young athletes possess at this point in their career.
Chase is a very talented overall athlete that will get an opportunity to flourish in one of the more exciting offenses in Oregon. The Comets typically air it out 40-50 times a game and that will stay the same with Warren taking over. Coach John Beck has done a great job building from within as Crater's 2017 class looks to be special.
Referencing the future Chase says, "Realistically I think we as a team should win our conference for the rest of high school." The Comets will be moving from 6A to 5A next season. He added, "I'm not a kid that is a player on the field and bully off of it… I show people the respect they deserve cause I know in return you will get it if you show it."
Warren carries a 3.5 GPA and is the shortstop for the baseball team. He has traveled from Southern Oregon to Portland and Eugene, early this off season, to participate at our elite events and train with Barton and Brink. Very few kids display the leadership qualities that he does, which is why he will project as one of Oregon's best for the 2017 class.
Speaking more on his off season and training Chase said, "Last March I went to try out for Team USA and ended up being the 2nd ranked QB there." He continued, "Up until BFA and NEI I had never really had personal trainings and grasp the true concepts of a quarterback.. One year with Taylor Barton and Alex Brink and it has truly been a night and day difference."
Senior QB Ty Fox led the state in multiple passing categories this past season and Warren looks to be the guy moving forward. Chase will be a household name to all those that follow HS football within Oregon and we can't say enough good things about the kid that he is. Expect Crater to be one of the better 5a teams in the state in the coming years. We will bring you updates as they happen.