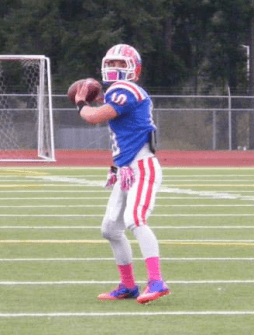 One of the top athletes in the state of Washington at the 2a level is Kody Martinez (5-10 170 Jr. ATH/DB) of Washington High School. The kid out of Tacoma was named the South Puget Sound Conference athlete of the year, while earning 2nd team all league honors at defensive back as well. The Patriots had a tough season going (1-9) making Kody's accomplishments all the more relevant.
Martinez played QB but was one of the league's leading rushers accounting for 805 yards on 124 carries, and 10 TD's. Kody also picked off three passes on the year racking up 153 return yards defensively. His versatility on both sides of the ball have made him one of the feature players returning state wide next season.
Its never easy to endure a losing year but Kody has stayed positive and continued to focus on what he can control. Referencing the season he says, "We will continue to work hard and put in the time over the off season". Adding, "One of the top players in the conference is Tyquan Bowie (5-9 190 Jr. RB) who did a great job for us last year."
Bowie went for 1,081 yards on the ground on 168 carries, with 8 TD's. Both him and Martinez will have to stay healthy and carry the load again in 2014.
Kody played varsity baseball as a freshman and will return as a 3 year starter on the football field, making him one of the better overall athletes to come out of Washington High School in some time. He carries a 3.0 GPA and will continue to get his work done in the classroom, as his ultimate goal is to find the right fit at the college level.
Expect to see Martinez featured on the Barton Camp and Combine tour over the off season with the other top athletes in the region. We will bring you updates as they happen.