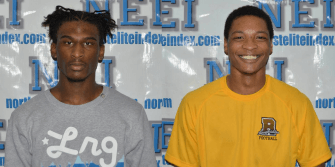 Fresh off a PIL title the Christian Swain led Roosevelt Roughriders (9-2) look to be equally talented coming back next season. The transformation that has taken place over the last half decade has been inspirational on multiple levels, with success in the classroom equating to the best teams the school has had in years.
The first hour of any practice is spent in a group called "First Huddle", which is an academic tutorial that the team uses to focus on it's studies. The team GPA has risen from 1.2 to 3.129 which is a testament to what the overall focus has been since 2009. A retired Nike attorney and CEO have dedicated their time as academic coaches as the results speak for themselves.
Leading the Roughriders will be two of the state's top athletes and legit D1 prospects in Kimane Domena (6-2 200 Jr. QB/ATH) and Billy Nelson (6-1 185 Jr. CB/RB). Both kids hold division 1 offers and are ranked among the top Junior's on the west coast.
Domena will be a state player of the year candidate after going for 29 TD's (15 rushing, 14 passing) and 1, 058 yards on the ground. He has been courted as an athlete and as a quarterback with offers coming from BYU, Colorado St, and PSU.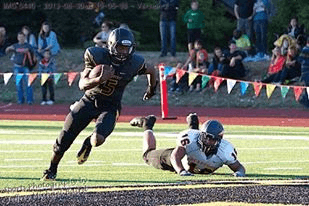 Nelson is a lock down corner that was offered early by Portland St, as he will have multiple FBS options before all is said and done. Each will have an opportunity to represent the state as part of our Team Oregon 7 on 7 travel squad that will head to Las Vegas in March.
The Vikings have done a phenomenal job recruiting at the North Portland school, as they recently received commitments from two of the top lineman in the Northwest in Sione Taumoe'anga (6-2 295 Sr. DL) and Semise Kofe (6-2 290 Sr. DL). Both athletes are outstanding students and overall kids and in my opinion Pac 12 type talents.
The Roughriders will stay strong on the line with a ridiculous amount of talent returning. Offensively two 2nd team all PIL junior's return in Anthony Garcia (6-2 295 C/G) and Hunter Welch (6-0 285 G/T). Garcia could conceivably be one of the top center's in the state, with Dylan Arnold (6-3 320 So. G/T) being and honorable mention All PIL kid and one of the better sophomores in Oregon.
Two other offensive lineman that will see time are Marte Nickson (6-2 245 So. OL) and Milo Stanich (6-1 255 Jr. OL). Nickson has looked great at our elite events as his size 17 shoe makes you wonder how big he could get.
Defensively Seteki KinniKinni (6-2 315 Fr. NG/DT) is one of the top freshman in the Pacific Northwest, with Junior's RJ Bryant (6-1 190 DE) and Michael Legge (6-4 210 DE) playing a primary role as well.
The talented line is crucial, but the skill kids are also legit. Four all league athletes return to help off set the focus that will be put on Domena and Nelson. Khaylub Thompson (5-11 185 Jr. RB/LB), Chance Swar (6-0 190 Jr. ATH/LB), and Keondre Collier (5-7 155 Jr. Slot/CB) all provide options for the Roughriders.
Brandon Redeau (5-11 215 Jr. LB) is a 2nd team all league kid that will return after transferring from Grant. He had a very impressive junior season with Coach Swain saying that he is one of the better backers in the area.
A few other kids that will get in the mix include Sophomore Marquis Johnson (5-7 160 RB) who was incredibly impressive at our first elite event. Coach says he could be the fastest kid on the team as he very shifty and elusive. Harlem Atwood (5-10 165 So. SS/WR ) and Andrew Antoniadis (5-7 165 Jr. SS/WR) are other talented athletes.
Two additional transfers that we will see include Brandon Ita (6-2 265 So. DE) who has returned from Salt Lake City, and fellow sophomore Tremayne Livingston (5-7 155 So. ATH) who is a big time track athlete back from Los Angeles.
All of this said as the Roughriders have come a long way from 2007-2009 where they went a combined (1-26). Swain, former all pro Neil Lomax, and the entire Roosevelt football community have done a phenomenal job of getting behind a talented group of young men and helping them grow on and off the field.
We will hear much more from the PIL champs in the coming year as the program just continues to make strides.