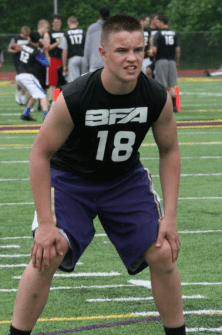 Cy Sirmon (6-2 225 LB) of Wenatchee is one of the top junior's in the Pacific Northwest. This past week he kept a family trend going after receiving his 1st D1 offer from Idaho.
The young backer comes from one of the most talented football families ever to come out of the region. He went off in 2013, earning 1st team all league honors on both sides of the ball (Unanimous- LB), as he will be a conference player of the year favorite next season. Cy has legit size and put up some outstanding numbers, accumulating 106 total tackles, 19 tackles for loss, 8 hurries, 5 pass deflections, 3 forced fumbles, and 9.5 sacks.
Referencing Idaho and the offer he says, "I think it's an amazing place… I remember going to Moscow as a kid with my dad and he would show me where he played". He continued, "I haven't really met the coaching staff yet, but it was good speaking to them on the phone and I have heard great things about Coach Petrino."
Cy's father John was a record setting d end for the Vandals back in the late eighties and early nineties. As most know his uncle and current USC LB coach Peter Sirmon is one of the best players to ever come out of Washington state. The 8 year NFL vet and former Oregon Duck is one of the most respected coaches in the college game.
Add to this both of his grandparents and all 5 uncles played college ball, while his cousin Jacob (6-2 185) is one of the top 8th grade QB's in the west. All of this plays into what Cy brings to the table as football runs deep within the family.
In closing he says, "I'm pumped right now and excited to meet the staff in person." Expect to hear much more from the kid out of Eastern Washington as he will have multiple scholarship options before all is said and done.