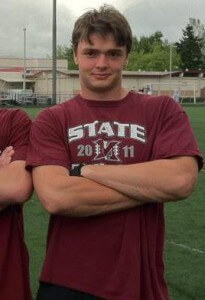 It's been an arduous journey for Mercer Island (Wa.) senior DL Brad Kimball, but the talented two-way Islander star told Northwest Elite Index recently he has made his college choice.
"I have committed to Brown University," Kimball told NEI in a message.
Kimball chose Brown over offers from Harvard and Yale and interest from a host of other programs. This past summer, while still taking part in a leadership program mission trip to Guatemala, the senior hit the road to take part in camps with several Ivy League programs.
While Kimball's great frame (6'3″, 245) and underrated athleticism are what has garnered him the attention of schools, he was quick to say that it wasn't just that, giving credit to the staff that has helped develop him.
"I give all the credit to my coaches for helping me learn what I needed to know to be successful," Kimball said. "Coach (Brett) Ogata runs a great program here and then my two position coaches — coach Chip Daily (offensive line) and coach Brad Burmester (defensive line) — have shown me so much. I couldn't have gotten to where I am without their help."
He also wanted younger players to know one very important thing. "They should always be students first," Kimball said. "Football is great and I love to play it, but if you want to play at the highest level, you have to concentrate on school first and then on football because you can be a great player and not be able to play if you don't have the grades."
Kimball will be part of Mercer Island's Signing Day Event on Wednesday, February 5th and he will enroll at Brown during the summer to get a jump on things before the start of the season.