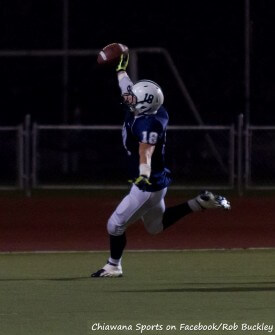 Chiawana (Pasco, Wa.) LB Alex Weber had an outstanding senior season, helping to lead the Riverhawks to the 4A State Championship and earning First Team All State honors. Now, as National Letter-of-Intent Day approaches, the talented linebacker tells Northwest Elite Index that he will be playing for an Ivy League power.
"I've decided to commit to Penn," Weber told NEI the night before Signing Day. "The coaches there are great and I really loved the state of Pennsylvania and you can't doubt the educational opportunities you have there. Plus, the head coach that is there, coach (Al) Bagnoli has been there for 35 years and in like half of those years, he won the Ivy League, so their tradition was something I really liked a lot."
Weber chose Penn over offers from the likes of Cornell, Cal and Air Force.
The senior linebacker prospect noted that Penn wants him to play inside where his natural instincts and physical play are a perfect fit.
This season, Weber posted nearly 100 tackles in 14 games.