Click Here for Eric Briscoe Highlights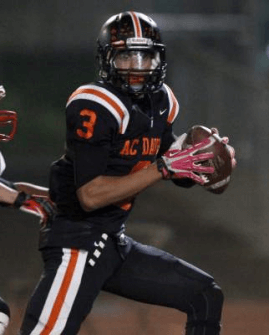 One of the top two-way players in the 2016 recruiting class is Eric Briscoe of AC Davis (Yakima, Wash) High School. He just finished an impressive sophomore season, and looks to follow in the D1 footsteps his father laid down.
Standing six-feet four-inches, and weighing nearly two-hundred pounds, Briscoe is a mismatch for pretty much every defender he will face. As a freshman, Briscoe was awarded second team All-Big 9 for his work at TE. He managed to better that during his sophomore campaign garnering first team at TE, second team at DB, and second team All-State at TE by the Associated Press.
Briscoe finished his junior season with 32 receptions, for 393 yards and 6 TD's. He 28 tackles and two forced fumbles on defense. Briscoe started the season at LB, but was moved to Safety mid-way though the year.
"It meant a lot to be voted 2nd team all-state as just a sophomore, but I try not to let it go to my head," Briscoe told NEI. "I know I still need to work hard this summer to improve my speed and route running so I can hopefully earn 1st team all-state honors next year."
"To achieve those goals I'm going to put in a lot of work in the weight room and on the field this summer," he added.
Right now recruiting is light, but the process is still early. At this point, he has heard from two in-state schools, Washington and Washington State.
For some of you Washington Husky fans, the name may sound familiar. His father, also Eric, roamed the secondary for the Dawgs from 1987-91. His senior season he captained the squad that finished 10-2, and as Pac 10 Champions, went down to the Rose Bowl and beat the Iowa Hawkeyes 46-34.
The Pirates finished the season 4-6, but return about as much offense as any team in the state. Leading WR Kristian Sanders is gone to graduation, but the Pirates return over 1,200 yards and 15 TD's receiving. They also bring back their top two leading rushers to combine for nearly 2,400 yards of total offense.
Most importantly for the Pirates they will get QB Elias Moctuzuma back from injury. He missed the entire season, and it forced speedy slot receiver Nikhil Lizotte to take snaps. Moving Lizotte back to slot, another year of progression from Briscoe, and improved play from senior WR Ketner Kupp, AC Davis could be the front runner for a league title.
"One of our team goals would be to reach a state playoff game. Davis has never been to a playoff game, but I think we will have the right guys to do it this year," Briscoe added.
Briscoe, Kupp and Lizotte have all been invited to travel with our 7-on-7 team that will participate in a national tournament next month in Las Vegas. We will keep you updated on Briscoe and the rest of the Pirates.