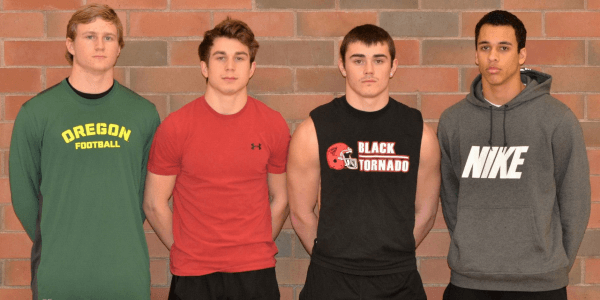 For the last two years we have watched the North Medford athletes make the 10 hour round trip from Southern Oregon to Portland for our elite events. Every weekend during the winter they have jumped in their car around 5-6 AM, and made the journey up north to compete against the top kids in the Pacific Northwest.
To say it has been inspirational would be an understatement as the Black Tornado went (2-18) in 2011-2012. In 2013 they made things happen going (10-2) and winning the SWC title for the first time in a decade, after compiling a (24-44) record from 2006-2012.
Give head coach Mike Mitchell and his staff a lot of credit as its rare for any school to go from last to first, especially in what is traditionally a very competitive league. The Tornado started 13 sophomores on varsity last season, before going undefeated in conference play this year. Junior QB Troy Fowler (6-0 170) is the unquestioned leader of the group, being named the SWC Player of the Year with 1st team all league RB/LB Nick Janakes (6-0 195 Jr. ) saying, "he's the toughest kid I know."
Fowler accounted for 34 TD's (29 passing, 5 rushing) and 8 INT's, while throwing for 2,387 yards on the year. If I was to pick out one kid in the state who I would want to lead my team it would be him. His intangibles are off the charts and the turnaround of this team can be directly related to his leadership skills on and off the field.
Janakes had an equally successful year scoring 18 TD's and racking up 1,496 all purpose yards. He carried the ball 227 times for 1,161 yards while catching 23 passes for 306. He was a viable player of the year candidate along with Fowler earning 1st team all conference honors on both sides of the ball.
Add in two of the state top overall players in Jared Evans (6-3 200 Jr. WR/S) and Tristen Holmes (6-2 195 Jr. WR/CB) and you have as good a returning nucleus as anyone in Oregon. Evans will come back the #2 ranked receiver in the state for the 2015 class as he has D1 capabilities. Jared was a 1st team all conference wide out ,catching 49 passes for 818 yards and 9 TD's. He is also a very talented baseball player and an even better kid.
Many are familiar with Holmes who comes from an extremely athletic family, and is currently ranked the state's top junior corner. Much like Janakes he was a 1st team all league athlete on both sides of the ball catching 39 passes for 686 yards and 7 TD's. His cousin Tyrone Holmes is an all american candidate, now playing with the Montana grizzlies. Tristen is a 4.0 student and one of the top basketball players in the state, as he projects as a kid that can play a high level of collegiate football with continued progression.
Speaking on some of his lineman Fowler says, "Zak Kuitert (6-0 250 Jr.) was a first team guard and has never missed one workout, he's undersized but has a fire like no one else". Adding, "Calvinn Casaday (6-3 205 Jr.) will be a first team kid at D end next year, as he's one of the hardest workers in the weight room and has put on 20 pounds since football season."
Most of the North Medford lineman have traveled to Portland covering the last month and have made a good impression. Troy continued, "Dalton Ireland was a borderline varsity guy last season and a standout on JV, but he has a huge upside at 6-5 250, while Morginn Casaday (6-3 180 Jr.) will help out a lot during the year and is going to every camp with those guys."
Edmund Polataivao (6-2 215 Jr. LB) will be one of the state's top backers and Will Spence (5-10 170 So. ATH) had a standout sophomore season. Skyler Black (6-0 220 Jr.) and Jeremy Sparks (6-0 180 Jr.) are two other talented lineman that earned all league honors. There will be a host of other kids that you can expect to get in the mix as the enthusiasm within the school is back to an all time high. North is a tradition rich football school , playing in multiple state title games over the years.
As much as I respect and like the group out of Medford I did not see them winning the conference title and beating defending state champion Sheldon during the regular season. They believed in themselves, and put in the work covering the course of the year to make one of the most remarkable turn-arounds in state history. You can expect to see the Black Tornado be a SWC favorite next season and a 6A state title contender.
I can't say enough good things about the kids from down South. It's a class group of families and athletes that have another exciting year ahead. We will keep you updated as the off season progresses.