Click for Shane Lemieux Highlights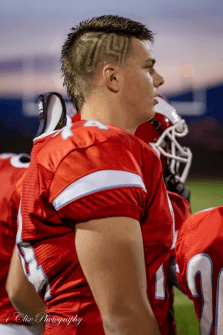 The 2014 recruiting cycle just ended and that means that the 2015 class will see things really pick up steam over the next couple of months. One 2015 prospect who has started to see offers roll in from the Pac 12 is West Valley (Yakima, Wa.) OL Shane Lemieux.
"I just got an offer from Washington State and I got offered by Oregon," Lemieux told Northwest Elite Index. "I spoke to coach (Clay) McGuire from Washington State and he offered me and coach (Steve) Greatwood from Oregon told me he likes me as a guard or a center in their system."
In addition to those two offers, Lemieux told NEI he has seen things pick up with schools like Oregon State, Montana, Georgia State, Fresno State and Idaho among others.
"A lot of schools have been sending me stuff and I've talked to a few of them, but I only have the two offers right now," Lemieux noted.
When asked if he wanted to wait out the process or the possibility of him making an early decision, Lemieux said he was unsure at this time.
"Right now, I'd say if I were choosing a favorite, it would be Oregon," Lemieux acknowledged. "They have a great system there and a great program and I like the coaches a lot.
"I'm going to go down there on February 28th for an unofficial visit to check it all out and see what they have to offer and then we'll just have to see what happens. I'm not planning on making a really early decision, but if it feels right, you never know."
At 6'6″ and weighing in at 285 pounds, Lemieux is an impressive looking athlete for his size and has already started two seasons at left tackle and added playing time at defensive end this past season. Even with his versatility and two-way playing time, he said he sees his future on offense.
"I'm a better run-blocker right now than I am a pass-blocker. I mean, I excel at both of them, but if I had to choose one thing I'm better at it's definitely as a run-blocker," Lemieux said. "I think my best opportunity to play in college is on offense. If I were to play defense, it would be inside at a defensive tackle spot and I just think, in the long run, that it's better for me to play offense."
As far as camps are concerned, Lemieux noted he plans to take in Oregon's "trench" camp, an FBU camp and may even attend a Barton Showcase depending on his schedule.
"I just like to get out and work and compete," Lemieux added. "I love playing the game and the more I work at it the better I will be."
This year, the state is loaded with talented lineman and Lemieux is just the latest to emerge and find himself squarely in the cross-hairs of BCS schools.