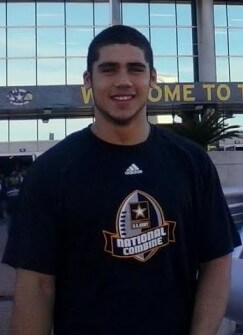 One of the more successful programs in the Wesco conference over the last few seasons has been the Lake Stevens Vikings. They've won two of the last three league 4A titles, and even made a trip to the Tacoma Dome in 2011. They look primed for another good run in 2014, and a big reason is the standout play of Tevin Gray ('15, 5'10" 195).
The season started slow for the Vikings, but following non-conference play the began to hit their stride, Gray especially. Over the last five games, Gray averaged 9.4 receptions, 120.3 yards and 2 TD's per game. The Wesco 4A Championship game saw Gray really break out when he caught 12 passes for 203 yards and 4 TD's as the Vikings topped previously unbeaten Edmonds-Woodway 53-49.
Gray would finish the season with 61 receptions, 838 yards and 11 TD's, good enough to be named 2nd team All-Wesco by the league's coaches. He was also invited to the 2014 US Army All-American Combine in San Antonio, TX.
"Going to the combine was a great experience knowing that I'm being recognized and I'm up there with the best of the best athletes in high school but at the same time is was a very humbling experience," Gray told NEI. "At the combine there were guys with faster 40 yard dash times, stronger, and some guys with up to 15 Division 1 offers. The combine reminded me that I have no time to rest, there is no offseason and I have to do my best every day to help me achieve my goal of playing at the next level."
Recruiting has been mostly letters so far from mostly Pac 12 schools, including Washington and Washington State, Missouri, Wyoming and even Princeton of the prestigious Ivy League. Being on the radar of these schools is great, but without an offer, Gray has only become more motivated.
"My plan for the off season is to continue working on my speed, agility and strength by working out daily in the weight room," Gray said. "I plan to continue attending off season combines and work with my teammates to improve on route running and timing. My parents and I will be taking some visits to a few colleges this summer as well as attending some summer camps."
The Vikings lose some big production off last year's squad with WR Gavin O'Neil, RB Austin Otis, LB C.J. Lat and OL/DL Evan Miksch. Each player led Lake Stevens in important statistical categories, but that isn't to say the cupboard is bare. They return plenty of young talent that Gray plans on leading to another Wesco Championship, and maybe even more.
"Since I was voted team captain it's my responsibility to help prepare the underclassmen with the type of workouts to expect on and off the field so that as a team we can defend our WESCO Championship," Gray stated. "As a freshmen I had the experience of playing Varsity and going to the Tacoma Dome to take 3rd place in state. In order to get back to the Tacoma Dome I have to push the younger guys harder, get them in the weight room, watch lots of film, and work together as a team all season long."
Quarterback Jacob Eason ('16, 6'5″ 200) will return after a first team All-Wesco season where he completed 209 passes for 2,941 yards and 22 TD's. He is one of the nation's top players at his position, and someone that will be very exciting to watch over the next two years. "Last year he was only a sophomore and it was his first full year of Varsity football," Gray noted. "He's already had an offer for a Division I college and I think that speaks well about his technique and his potential. He's got a strong arm, he's an accurate thrower, and stands tall in the pocket making it easier for him to see the open receivers."
While the Vikings do lose their leading receiver in yards, O'Neil, they do return the next three in line. Along with Gray they bring back Riley Krenz ('16, 5'10" 180), who finished with 39 catches for 638 yards and 2 TD's, and Justin Brown ('15, 5'10" 175), who had 27 receptions for 348 yards and a score. Gray spoke highly about the work ethic of both players, as well as their ability on both sides of the ball, as both also excel in the defensive backfield.
A couple other players to keep an eye on are Hunter Eckstrom ('17, 5'10" 175) and Andrew Grimes ('16, 6'0″ 180). Both players saw limited varsity time last season as the Vikings were very deep. Eckstrom has shown up to Barton Football Elite Events this offseason and show great ability to get open and could help offset the loss of O'Neill at wide receiver. Grimes returns as the team's leading rusher, with 120 yards rushing and 5 TD's.
Gray, Krenz and Eason have all been invited to join the Barton Football Academy for the Las Vegas 7-on-7 tournament in March. We will keep you updated on their offseason progress as they build up to what could be a very special season.