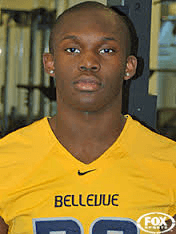 It's been a busy offseason already for Bellevue (Wa.) LB Mustafa Branch. The talented linebacker already had two BCS offers and he recently got offered by one of the two in-state Pac 12 schools.
"Offered by Washington State," was the message Branch sent to Northwest Elite Index.
The offer from the Cougars joins full rides from Oregon State and Northwestern and he's also getting interest from Washington as well.
Branch played both sides of the ball for the Wolverines this season, but a broken collarbone kept him out of six games had him hungry to contribute when he came back.
"I broke it in the Bothell game which was the second game of our season and then I came back and played against Mercer Island for the last game of the regular season then the playoffs," Branch said.
Since the Wolverines do not keep stats, it's hard to give you an exact total of his overall contributions, but there is no questioning his abilities to play the game physically and make an impact on the game, especially from his linebacker spot.
"I prefer defense just because of how physical you can be," the 6'0, 215-pounder said. "I love to play the game physically and just fly around and make plays. That's how our whole team plays and we have a lot of fun doing it."
Branch is unsure if he will hit the camp circuit this summer or not, choosing instead to focus on his senior season.
We will have more on this rising prospect from the Evergreen State after the start of the new year when recruiting promises to pick up for him.