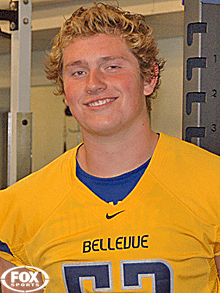 Arguably the top recruit in the state of Washington this coming fall is Bellevue OL Henry Roberts. Last weekend the big man from the east side took his ACT test, so he missed Washington's Junior Day, but he said he plans to visit Montlake soon and he also has a handful of other schools that he wants to visit as well…
"The test went okay. I mean, it's just another test in a long academic career I guess," Roberts said with a bit of a chuckle. "I mean, I feel like I did well, but it's hard to get all of that stuff done in the time they give it to you. You don't have a lot of time, so we'll see how it goes."
"Yeah, I want to get over there to talk with the coaches more," Roberts said. "Washington is one of my top schools, so they are definitely a school I will see this spring.
"The other ones I want to see are Oregon, Stanford, USC and possibly Alabama."
As far as offer are concerned, Roberts claims 10 right now — all from the Pac 12 — with only the Cardinal and California as schools that have yet to offer.
"Things are picking up with some SEC programs right now too," Roberts said. "I don't have any offers from them yet, but I think a couple could be pretty close."
Roberts was the best lineman on the top team in the state this past season and has been widely acclaimed as one of the best in the Pacific Northwest and on the West Coast for the 2015 class.
"I don't get caught up in all that stuff honestly," Roberts said. "Our team is so focused on what we need to do and how we go to work and prepare that I don't even know that much about the rankings.
"As far as camps, I doubt I will go to any. Our coach, Butch Goncharoff, he isn't real big on camps and I try to listen to what he has to say on all of that stuff, so I doubt I will go to any honestly."
We will continue to keep track of Roberts' progress in the coming weeks and months and we will update news on him as it happens.