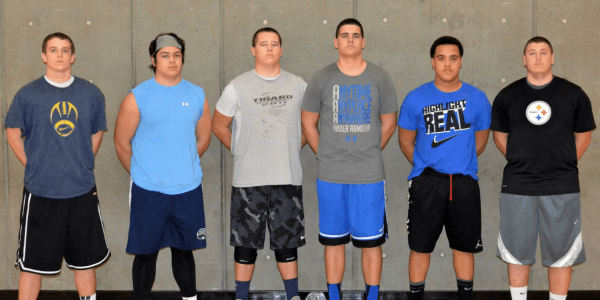 Barton Football Video Breakdown
Speaking with head line coach Alex Linnenkohl he had some thoughts to add on Oregon's up coming line group saying, "The 2015 and 2016 classes have extraordinary talent up front, as it has been hands-down the highest level of intensity and competition I've seen in January camps". He continued, You can tell each of them has the size, talent and the work ethic to play at the highest levels of college football.
Referencing the individual athletes he says, "As a sophomore I'd put Conner Crist against any senior pass rusher in the NW, and TJ Salu should start pulling in offers as soon as coaches see him doing 1-on-1's in person… his film is outstanding". He added,"Aaron Turner and Nick Miller have great size and are very coachable, and both of those guys have the frames to add weight, something that college coaches like to see."
Linnenkohl came through BFA before moving on and becoming an all Pac 12 lineman, then spending time in the NFL (Chicago Bears) and most recently the Arena League. Alex will be leading our line group once again this season as we are excited for the big men moving forward.
Tony Kraus 6-3 235 So. DE Canby – 1st team all Three Rivers League d lineman in 2013, and currently the state's top ranked sophomore D end. Tony comes from a football family with his brother being a three year all league starter. He excelled in the state's toughest conference this past season, helping the Cougars reach the state semifinals while coming off the edge like a young Connor Humphreys.
He accumulated 36 total tackles, 3 fumble recoveries, 2 pass deflections, and a sack and has been one of the more impressive kids at our elite events.
TJ Salu 6-2 265 Jr. C Central Catholic – 1st team all league Mt Hood O lineman and the state's top ranked Jr center. Salu is one of the most fundamentally sound line kids we have seen and fresh off a 6A state title.
Salu's parents were scholarship athletes at Portland St (Father-football) & (Mother-softball) as TJ himself projects at the D1 level. Expect big things from him and CC as they also return two of Oregon's other top lineman in Blake Brandel (6-7 240 Jr. T) and Riley Gallant (6-5 265 Jr. T).
Conner Crist 6-4 285 So. T Tigard – Get used to the name as Crist is the real deal. Currently Oregon's top ranked Sophomore O lineman, that started and earned all league honors for the Tigers (12-1) semifinal team.
Crist is very athletic for a big man and will be a double digit D1 offer kid with continued hard work and progression. Expect Conner and 6-6 330 pound OL Derek McMurray to be a force up front for another very talented Tigard team next season.
Aaron Turner 6-5 275 Jr. T Gresham – Turner is climbing the charts as quick as anyone in the state. He has had two very impressive back to back elite event performances and should be a big time factor for the Gophers in 2014.
Gresham loses talented lineman Brandon Grissom, but should be one of the better teams in the Mt Hood with Brian Dahl and Turner leading the way up front.
Dangelo Penn 6-1 240 Jr. DE Grant – Most know the last name as his brother Paris was one of Oregon's top quarterbacks, now at Portland St. His other brother Dominique is a current stand out for the Generals as they will be two of the best players in the PIL next season.
Dangelo is just a very talented football player and will require constant double teams. He has had two "lights out" performances during our first two elite events and just looks to be getting better.
Nick Miller 6-3 265 Jr. OL Jesuit – One of Oregon's top 5 junior lineman. Miller earned 1st team all league and honorable mention all state honors in 2013, helping the Crusaders reach the state title game. Nick has D1 capabilities and will most likely end up in a guard/center type role.
He had as good a year as any junior lineman in the state. Much like Salu he is fundamentally ahead of most and should be a high profile kid next season.