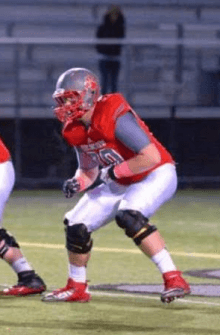 The combination of great coaching and players buying into the program have made the Mount Si Wildcats one of the state's top programs for the last few seasons. Longtime head coach Charlie Kinnune and his staff have done a great job at developing the talent they have, and offensive lineman Chris Schlichting might go down as one of the best examples.
"There is a lot of interest out there for Chris. Something about a 6'5" 275 lbs. kid with good feet that makes people sit up and look," Kinnune said. "Chris has long arms, really good feet and excellent balance. Chris has as much potential as any lineman I have coached."
This past season the Wildcats got a bit of a surprise when legendary NFL Offensive line coach Howard Mudd joined the coaching staff. Schlichting spoke to Mudd's experience and his ability to teach the little things that helped him have a bit of a breakout year. "Making second team all-kingco was a huge honor. I felt blessed that I was able to make it. It felt good seeing all the hard work I put in over the off season get recognized," Schlichting told NEI.
Collegiate interest is strong for Schlichting. He has been in contact with most of the Pac-12, and a few mid-majors like Boise State and Idaho. While he doesn't currently have an offer, that won't keep Schlichting from seeing what the field has to offer.
"I will be visiting ASU, Arizona, and San Diego State this off-season most likely over spring break," he noted. "My plan for the off-season are to workout and try to get my speed and strength up as much as possible. I will also be attending many camps in an attempt to get my name out in the recruiting field. I will be attending some of the Barton camps that will take place this off-season along with some camps that colleges put on over the Summer."
Mount Si will move up to 4A this coming season, and into a much tougher situation. No longer will they have conference games against 2A schools, and week in week out will be a much bigger challenge. "Chris started some big time pressure packed games when he was a sophomore. So he will be a 2 1/2 year starter," Kinnune said. "This experience will be very helpful as we enter KingCo 4A."
The foundation has been set in Snoqualmie with past teams setting the example for which this year's squad lives by. "Our team leaders such as myself, along with Jojo Hillel, Andrew Thompson, and Cameron Davis continue to make sure that everybody is working out and getting better so that we can be the best possible team". Schlichting continued, "At this point this early in the off season our goal is to build up strength and speed so we can compete with some of the great teams that are in 4A. Ultimately we just want to win a state championship. We know it is going to be a tough job, but we are up to the challenge.
This is a big offseason for Schlichting as he looks to get him name on the map. We will keep you updated as he heads towards getting that first offer.