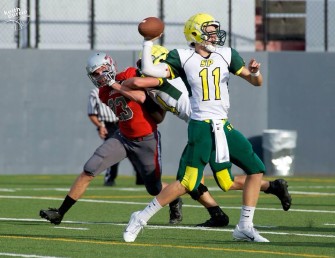 One of the top passers on the West Coast, from a statistical standpoint, Shadle Park (Spokane, Wa.) QB Brett Rypien, was on Montlake for Washington's first Junior Day since Chris Petersen took over. The five-hour trip west was very beneficial for the talented signal-caller as he came away with an offer from the Dawgs.
"I just got offered by Washington," Rypien told Northwest Elite Index. "We met with coach Petersen in his office a little bit before we left and he said he was offering me.
"It's really an honor to get the offer. I really respect the coaches there and I think they are going to do some amazing things."
So, did the first-year Husky head coach pressure him to commit?
"No, he never really pushed for it at all and I really appreciated that," Rypien said. "He just said he wanted me to keep him in mind and that they like what I can do."
As far as offers are concerned, the Huskies are the seventh school to extend an offer his way joining the likes of Boise State, Colorado State, Idaho, Mississippi State, Oregon State and Washington State, where his uncle Mark played.
"I want to be done with the process in May, so I'm still going to take some trips and get all of the information I can before I sit down and start to make my decision," Rypien noted. "I'm definitely going to visit Boise State and Arizona State and I may take another trip up to Washington State too."
As a sophomore in 2012, Rypien completed nearly 63% of his passes for more than 3,500 yards with 26 touchdowns and 11 interceptions. This past season, while helping to lead the Highlanders to a 12-2 record and a berth in the state playoffs, Rypien completed 66.5% of his passes for 3,438 yards with 50 touchdowns and just seven picks.
He said when it comes to making his decision, he will be thinking about three different things and weighing the pros and cons of each of his finalists.
"The most important thing is the coaching staff," Rypien said. "I know you're not supposed to commit to the staff, but I have to feel a bond with them and feel comfortable with them. Next is the system they use. I need to make sure it fits me and what I can do.
"The last thing is probably just the atmosphere of the program and the school. Can I see myself there for four years? That's the biggest question."
As we noted, Rypien will be taking a handful of other unofficial visits this spring and hopes to make his decision in May. We will have more on his decision-making process as he gets closer to committing to a school.