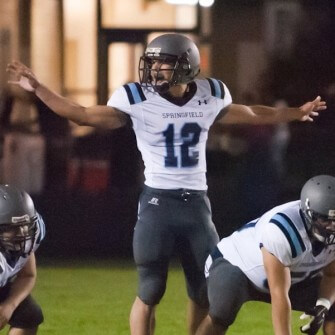 One of the top players in the state of Oregon is sophomore quarterback Trever Watson (5-11 185) of Springfield High School. If we are talking about the exception to the rule when referencing size for the position he is it.
Watson was the Midwestern League Offensive Player of the Year as a sophomore, helping the Millers go (8-3) while accounting for 46 TD's (Passing, Rushing) to only 3 INT's. Trever started as a freshman and showed leadership skills that very few 9th grade athletes possess.
As a freshman he averaged 21 yards a reception, before accumulating 3,550 yards (2800 passing, 750 rushing) in 2013. Referencing next season Watson says, "Next year we want to prove to people that Springfield HS is the real deal". Adding, "We have had two good years now and next season we want to take that final step and finish on top."
You would be hard pressed to find a more well rounded kid, as Trever carries a 4.0 GPA and will be a 5A Oregon Player of the favorite next season. As most know head coach Dave Heuberger has done a phenomenal job at the school, helping the Millers resurrect a down and out football program. Springfield has gone (16-6) overall and (11-2) in conference the last two seasons after going (26-50) from 2004-2011.
Speaking more on the 2014 season Watson said, "Brayden Haas, Nicholas Ah-Sam, Kyle Shill, and Omari Thomas will all play key roles for us next year." Haas will be one of the state's top junior WR's, and Ah-Sam is a freak athlete and a D1 projected kid in both football and basketball. Shill and Thomas will be two of the top senior's in the MWL.
Trever brings a lot to the table that you just can't teach. Coach Heuberger talks about his enormous hands and the fact that he has never missed a snap in 22 consecutive career starts. Very few kids ever earn player of the year honors as a sophomore, and Watson could very well be the state's top QB for the 2016 class.
We will continue to bring you updates on Watson and the Miller's as the off season continues. Springfield will come back ranked one of the top 5A teams in Oregon next season as we can't say enough good things about Coach Heuberger and his group.