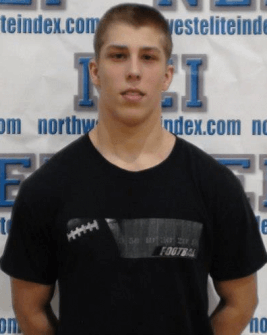 Mason Tobeck may be one of the more under-the-radar two-way players in the state of Washington. He had a phenomenal junior season, and just a few days ago picked up an offer from Colorado State University.
"I called coach (Tim) LeRoy on Wednesday and he told me that they where going to offer and I was surprised, but stoked out of my mind," Tobeck told NEI. "Then I spoke with coach (Art) Valero, Colorado States tight ends coach, then after that I spoke with Coach (Jim) McElwain, Colorado states head coach, the conversation lasted about 12 min."
This is the first of what could be many offers for the reigning league Defensive MVP and All-State performer. "It's amazing to finally have gotten my first offer, it is a dream come true that I have been working for from a young age," Tobeck noted. "I still have a lot more work to do, but it is nice to have the first offer under my belt."
Tobeck and the Cougars of Cascade Christian had another great season. They were undefeated heading into the semifinals before losing to a very good Mount Baker squad. The Cougars will start 2014 as NEI's top team in the 1A classification, and are considered the favorite to win the state championship.
For now, Tobeck and his teammates are focusing on working hard this offseason to get to their ultimate goal. "We want to go out play are hardest and spend as much time playing together as we can," Tobeck said. "We want to go out on top as a senior class and give back to our school and coaches by winning a state championship that is our ultimate team goal."
We will keep you updated as Mason will surely garner more offers before signing day in 2015.