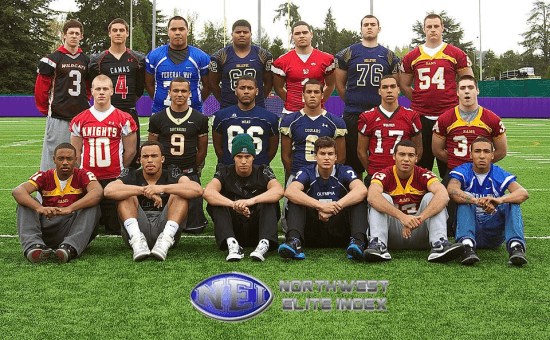 The Pacific Northwest continues to be the fastest rising football region in the country. At last count Oregon and Washington had 61 Division 1 commitments which speaks to the consistent level of play in the NW. Gone are the days where 5-10 kids would commit per state.
Listed below are 28 kids that signed with FBS (D1) level schools and 33 athletes that will be going to FCS (D1aa) universities. Give a lot of credit to the players and coaches who have raised the bar and proven they belong on a national level.
Have a look at what we can expect out of the Pac 12, Big Sky, and the other mid major D1's moving forward. Most of the signee's mentioned have trained with us at Barton Football, and we are excited to watch maybe the top class in Northwest history pursue their collegiate careers.
Jordan Johnson NEI/Barton Football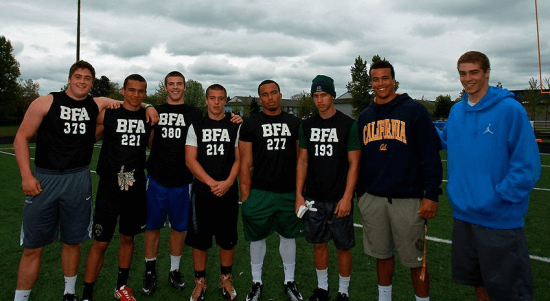 PAC 12 Joey Alfieri – Jesuit HS (Stanford) 6-3 225 LB/RB
Isaiah Brandt-Sims- Wenatchee HS (Stanford) 5-11 180 ATH
Ryan Nall- Central Catholic HS (Oregon St) 6-3 225 LB/RB
Tanner Sanders- Crescent Valley HS (Oregon St) 6-5 200 ATH
Christian Martinek- Jesuit HS (Oregon St) 6-5 240 DE
Nick Mitchell- Mount Si HS (Oregon St) 6-2 180 QB
Drew Clarkson- Camas HS (Oregon St) 6-4 285 T
Connor Humphreys- Central Catholic HS (Arizona St) 6-4 265 DE
Henry Mondeaux- Jesuit HS (Oregon) 6-5 245 DE/LB
Marcus Griffin- Bellevue HS (Arizona) 6-3 290 DT
Jordan Morgan- Southridge HS (Arizona) 6-2 200 WR
Devante Downs- Mountlake Terrace HS (CAL) 6-3 230 RB/LB
Budda Baker- Bellevue HS (Washington) 5-11 175 ATH
Morgan Richey- Bellevue HS (Washington) 6-5 285 T
Shane Bowman- Bellevue HS (Washington) 6-4 245 DE
Drew Sample- Newport HS (Washington) 6-5 235 TE
Drew Lewis- Eastlake HS (Washington) 6-3 200 LB – OL/DL
Andre Dillard- Woodinville HS (Washington St.) 6-5 250 OL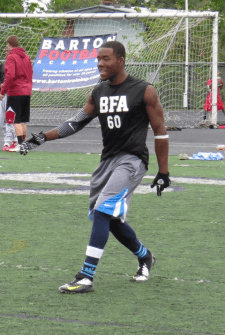 MID MAJORS Nick Underwood- Lake Oswego HS (Air Force) 6-1 220 LB
Peyton Dole- Eagle Point HS (Air Force) 6-4 225 LB
Jake Lacoste- West Albany HS (Air Force) 5-10 200 RB
Keenan Curran- Federal Way HS (Air Force) 6-2 190 S/CB
Brody Bagnall- Evergreen HS (AIr Force) 6-3 235 LB
Jack Flor- O'Dea HS (Air Force) 6-2 205 LB
Kevin Thomson- Auburn Riverside (UNLV) 6-3 190 QB
Kilton Anderson- Skyline HS (Fresno St) 6-2 200 QB
Dave Ungerer III- Pullman HS (Idaho) 5-7 165 Slot
Tyler Cox- Southridge HS (Utah St) 6-3 245 C/G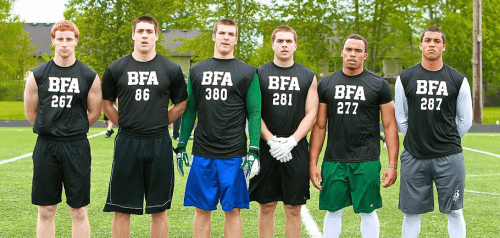 D1AA FCS- Oregon/Washington
BIG SKY
David Reese- Clackamas HS (Montana) 6-7 250 OL
Manu Rasmussen- Tigard HS (Montana) 6-0 185
ATH Reese Carlson- Gig Harbor HS (Montana) 6-4 200
WR Reilly Hennessey- Camas HS (E.Washington) 6-3 185 QB
Conner Baumann- Newport HS (E.Washington) 6-2 225 RB/LB
Mitch Fettig- Olympia HS (E.Washington) 6-0 175 DB
Terence Grady- Kentwood HS (E.Washington) 6-5 195 WR
JayTee Tiuli – Federal Way HS (E.Washington) 6-4 315 DT
Colin Cossette- Kennedy HS (E.Washington) 6-0 215 LB/RB
Jalani Phelps- Lynden HS (E.Washington) 6-3 180 WR
Zach Eagle- Camas HS (E.Washington) 5-9 165 Slot
Asan Neil- Evergin- Timberline HS (E.Washington) 5-9 175 ATH/DB
Henderson Belk- Kamiak HS (E.Washington) 6-3 235 TE
Jonah Jordan – Mead HS (E.Washington) 6-2 265 C/G/DL
Nick Foerstel- Tumwater HS (E.Washington) 6-3 225 DE
Alek Kacmarcik- Woodinville HS (E.Washington) 6-2 215 S
Cole Karstetter- Ferris HS (E.Washington) 6-1 185 DB
Spencer Blackburn- Meridian HS (E.Washington) 6-3 255 DE
Curtis Billen- Mariner HS (E.Washington) 6-3 240 Long Snapper
Josh Brown- Sunset HS (PSU) 6-6 250 DE/OL
Garrett Stauffer- Barlow HS (PSU) 6-4 280 OL
Sam Bodine- Canby HS (PSU) 6-2 220 LB
Randin Crecelius- Cascade HS (PSU) 6-5 290 T
Marqueese Royster- Lakeridge HS (PSU) 6-1 255 DL
Sione Taumoeanga- Roosevelt HS (PSU) 6-2 295 DT/NG
Semise Kofe- Roosevelt HS (PSU) 6-2 290 DT
Aidan Wilder- Central Catholic HS (PSU) 6-0 190 QB
Willie Eteaki- Southridge HS (PSU) 6-2 350 DL
Brody Haehlen- Clackamas HS (Northern Colorado) 6-4 250 DE
Mitch Herbert- Sheldon HS (Montana St) 6-4 205 WR
Tanner Gueller- WF West HS (Idaho St) 6-3 225 QB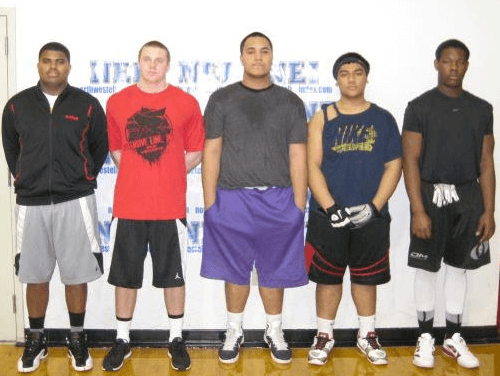 IVY LEAGUE
Brad Kimball- Mercer Island HS (Brown) 6-3 250 DL/OL
Alex Weber- Chiawana HS (Penn) 6-1 215 LB
Timmy Haehl- Bellevue HS (Harvard) 6-3 200 ATH
Nick White- Jackson HS (Dartmouth) 6-0 180 DB