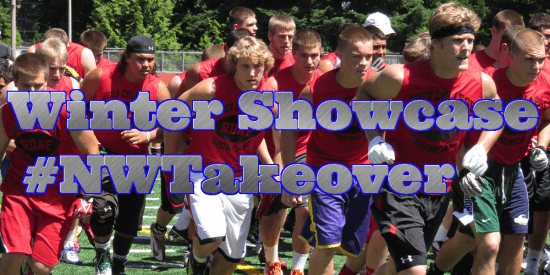 The Barton Football Academy is excited to announce our first annual Winter Showcase. The event will take place on March 1st at Interlake High School in Bellevue, WA. This event will include all positions, and for the first time we will also include Specialists (Punters, Kickers, Long Snappers). There will be three separate sessions, the first being for graduating seniors ONLY, the second for Specialists (graduating and underclass) and the third for underclassmen.
For all you graduating seniors, the February 5th signing Day was just the beginning. You have all the way until March 31st to sign with a college. This is an incredible opportunity for you to get in front of numerous schools at the same time. With D2, D3 and NAIA schools, this is a crucial time in recruiting, as they know exactly what they need and how much money they have to offer. Your session will be for 2014 graduating class players only, there will be no underclassmen. This is your last chance to compete in front of these colleges in your high school career.
For underclassmen this is a great way to get a head start on the recruiting process. If you feel like you are under-the-radar, this is a great opportunity for you to get your name on the map. Every year coaching changes take place, and there are always coaches that will take jobs on a Division-1 staff. For example, coach Jay Locey at Oregon State worked at D3 Linfield College before joining the Beaver coaching staff.
Special Teams is the one session that will include both graduating seniors and underclassmen. This is the Northwest's only opportunity of its kind for players at these positions to be seen by college coaches. Your session is shorter in duration because numbers are smaller and you will not be participating in the SAQ portion.
Here is a breakdown of the first and third sessions. After warm-ups, there will be 45 minutes of SAQ which is Speed, Agility and Quickness work. These will be movement drills showing colleges your athletic ability. We will then hop into 90 minutes of a football workout. This will be broken down into three phases; positional work, group work, and one-on-ones. Positional work will be each group separated by position and run through EDD (Every Day Drills). Next will be group work, an example of this would be QB's throwing to WR's, RB's and LB's working on blocking drills… etc. We will finish off the workout with one-on-ones. This is a chance to compete, end your day on a high note and show the schools why they should be recruiting you.
—–

Session 1: $115. Graduating Seniors. QB-WR-TE-RB-LB-DB-OL/DL.
Registration:
8:00-9:15am
Session 2: $65. Graduating Seniors AND Underclassmen. P-K-LS.
Registration:
10:30-11:45am
Session 3: $115. Underclassmen. QB-WR-TE-RB-LB-DB-OL/DL.
Registration:
11:45-1:00pm