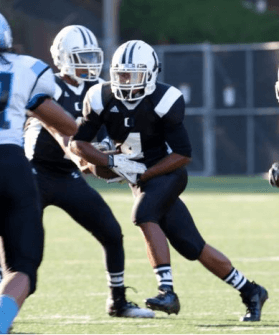 One of the top rushers in the state this past season is still one of the least known and, since he's a senior, that fact needs to end right now. Franklin (Seattle, Wa.) RB James Flowers is a gifted runner and athlete and the hope is that over the next few weeks, schools start to take notice because he can be a difference-maker at the next level.
"I think a lot of what I did was lost in the fact that our team was 1-8 last year," Flowers told Northwest Elite Index recently. "No schools were really by to see me or any of our guys and that's why I am thinking no one really knows about me or what I can do."
Last year, while running behind a line lacking in size and with opposing defenses knowing he was the Quakers' only real threat, James still managed to rush for over 1,300 yards and eight scores while also contributing as a wide receiver at times and as both a corner and a safety on defense. He earned First Team All-Metro honors for his efforts at running back and Second Team All-Metro on defense.
"I did whatever my team needed me to do to help us," Flowers said. "If they needed me to run inside, that's what I did. If I needed to break it outside, I did that too. I just love to compete and play the game. I never left the field and that's the way I liked it."
Because of his team's struggles, Flowers has lingered in "Recruiting Limbo" this fall and winter, but he said a few schools have shown some interest although it's been a bit tepid.
"Northern Arizona and Western Oregon have been the main ones I've been talking to, but my coaches have told me some D-2s are liking me too," Flowers said. "I really don't care what level it's at. I know I can play and help a team. I just need someone to give me an offer. If they do, I will work my hardest to prove they made a good decision."
At 5'9″ and weighing in at 175 pounds, Flowers has a nice frame to add some more size and with his outstanding quickness and legit 4.5 speed, he can be an asset on either side of the ball, although he appears to be a more natural fit at tailback.
With the upcoming Barton Football Academy Showcase Event on March 1st, that could be a huge event for Flowers to show schools what he can do.
We will continue to keep track of Flowers and his progress toward finding an opportunity at the collegiate level and we will have more as things begin to happen for him.