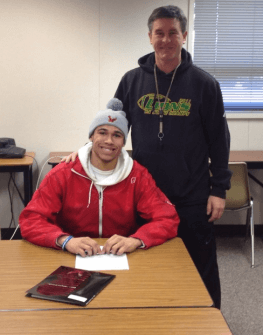 For Lynden wide receiver Jalani Phelps, time was getting short to make a decision. Heading into last week, he had an offer from Central Washington, but wasn't quite ready to pull the trigger. Then, the Eastern Washington coaches invited him to Cheney for an official visit last weekend.
He took that trip without an offer in hand. However, the 6-4, 190-pounder got the news he was hoping for during his visit and received the scholarship offer from Eagles head coach Beau Baldwin. It didn't take long for Phelps to make his decision. He knew he wanted to be an Eagle.
"I committed to him right on the spot," an excited Phelps said. "I'm super relieved and it' a great feeling to know where I'll be going next year. I'm going to be a part of a good program and a great tradition of winning football.
"Before my trip, I spoke with their coaches and I knew it wouldn't be a for sure thing (for them to offer). I went in with an open mind and throughout the visit, I knew it was where I wanted to go to college. They ended up offering and I couldn't be happier."
Phelps has been a key member of Lynden's back-to-back 2A state championship teams. As a senior this season, Phelps hauled in 49 receptions for 715 yards and nine touchdowns.
As a junior last season, Phelps had 30 catches for 570 yards and seven touchdowns. Those stats, along with his ability to make plays in the open field, also had the EWU staff excited when he told them he would sign his National Letter of Intent with them today.
"Oh man, they were beyond excited," Phelps said. "We went outside of coach Baldwin's office to let everyone know and all of the other coaches came up and started hugging me. It's a really close family environment over there and that's what I like about the school too. All the players treated us (recruits) very well and I could tell they're all very close over there. It reminded me a lot of Lynden."
Speaking of Lynden, Phelps said as soon as he committed, he phoned home to let his family know and he was showered with love from both them and his Lion classmates .
"My family is beyond excited," Phelps said. "I'm extremely blessed to keep playing the game of football and they're very supportive. I was getting a lot of texts and calls and they let me know how much they loved me and how proud of me they were. I know they'll always be my biggest fans.
"My teammates were pretty much the second people to find out and they showed me a lot of love as well. I have had a lot of people at school come up and congratulate me as well. I know a lot of people in the community are excited to see what I can do the next few years."
After showcasing his skills in Whatcom County over the last two season, it's clear Eastern Washington fans also have plenty to be excited about.