Austin Hall Junior Highlight Video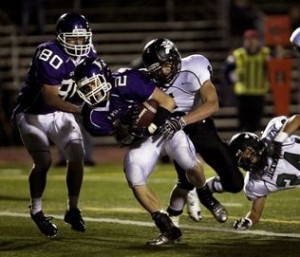 Coming into his senior season, Austin Hall (5'11" 180) of Kamiak High School in Mukilteo was considered the strong favorite for League MVP, with a good shot at being named All-State. He had a tremendous junior season, rushing for 1,673 yards on 234 carries and scoring 23 touchdowns.
His senior season started out great. In a week two hammering of Marysville-Getchell, Hall reeled in four INT's, running one back 61 yards for the TD. He also carried the ball 12 times for 121 yards and 2 touchdowns, but the season would start going downhill shortly after that.
"In the third week of the season I noticed I had a bump on my leg that hurt when I put pressure on it so I went to the doctor and they told me it was a precursor to a stress fracture which means that it was leading up to a stress," Hall told NEI. "I took a couple weeks off to let that heal. My first game back from that was against Jackson. In the third quarter I received a concussion."
Hall continues, "I've never had a concussion so I didn't even think I had one. I missed a week, then went back to practicing and now it was senior night. I did the first series and started to get a headache so my coach took me out and the doctor said I was done for the season unless we made it deep in playoffs."
With such a promising season ahead of him, it was tough for Hall to sit and watch not only his senior season go by, but maybe his chance at playing college football as well. A player who many consider to be a workhorse, was now forced to sit and watch.
"My head is fine now, it was just disappointing having such a limited senior season especially since there was nothing I could do but wait for my head to heal," Hall added.
Hall has also excelled at both Lacrosse and Track, but football has always been his best sport. He set eight football records in his relatively short time at Kamiak, and yet he is still searching for a home next season. Knowing he has until March 31st to sign with a school, Hall knows the time is getting shorter.
On March 1st Hall will participate in the Barton Football Academy's Winter Showcase. Hall says, "Entering in the showcase, I want to get my name out there to some other schools and prove that I can hang with the best because I know I can if I get the chance."
At NEI, we are big advocates of Austin Hall. Someone will give him a chance to play at the collegiate level, and that someone may be getting one of the biggest steals in the recruiting class. We will keep you updated as news comes in about where Hall will play next season.