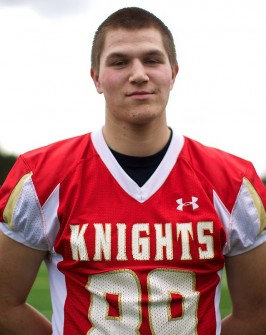 Even though he's only played one year along the offensive line, Newport (Bellevue, Wa.) OL Calvin Throckmorton is already a hot commodity for Pac 12 schools. So far this week he's received two new offers and he updated Northwest Elite Index on the latest recruiting news.
"I just got offered by Washington State and Arizona State came in pretty recently too," Throckmorton told NEI. "They both said basically the same thing – 'we're offering you, but we want to make it official when you come to our Junior Day' – so I'm planning on going to both of those next month."
Those two offers join the full rides that Throckmorton has already received from Washington and Oregon. Last weekend, the talented offensive lineman took in the Huskies' Junior Day and he said he was excited that he was able to meet the new coaching staff.
"It was really good to finally meet with the coaches and also get to know them a little bit better," Throckmorton said. "I went to a few games last year and I have already seen the facilities, so this was more about getting to meet the coaches face-to-face and for them to get to know me."
Last season was Throckmorton's first as a starter and he said he felt he held his own, but plans to work that much harder this spring and summer to get ready for his senior season.
"You always have stuff to improve on and I think I learned a lot of different things that I need to focus on, but overall I think I did okay," Throckmorton said. "Hand placement, footwork, staying low, those are all things that I need to work on. This summer I learned a lot from the different coaches I worked with at camps and I think as I keep working on it, it will get a lot better."
Throckmorton and his basketball team just finished up their season, losing in the first round of the playoffs and he said that now that basketball is complete he will start lifting, hoping to add to his 6'6″, 270-pound frame.
"I'd like to play this year at about 290 or somewhere close to that," Throckmorton said.
He also acknowledged he's been thinking about when he plans to make his decision and said it will likely come during or after his senior season.
"I want to see some schools and take my visits before I decide," Throckmorton acknowledged.
We will continue to keep track of Throckmorton's progress this offseason and will update news on the recruiting process in the coming weeks and months.