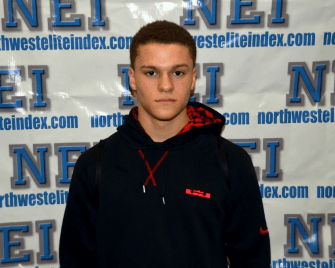 The best thing about our elite events is that it allows the top athletes in the region to compete against one another. Two freshman that stick out like a sore thumb are Elijah Molden of West Linn and Anthony Adams of Newberg. They currently project as the top two recruits in Oregon for the 2017 class, and two of the better overall athletes anywhere in the U.S.
As most know Elijah is the son of former NFL vet and 1st round pick Alex Molden. As a youth athlete he was in a class of his own running for 49 TD's in a single season. This past year he started on Varsity as a freshman for the Lions, and earned 2nd team all Three Rivers League honors in what was Oregon's toughest conference. He will be the go to guy on the offensive side of the ball in the year's ahead as you can expect him to flourish.
Referencing the upcoming season Elijah says, "Our freshman and JV teams both did really well and we have some talented kids returning". He continued," I don't really have any personal goals I just want to help my team win." Molden is a three sport athlete and carries a 4.0 GPA. Its still early but when all is said and done he could be one of the better high school players to ever come through Oregon.
More then anything Molden and Adams are both quality character kids. Kudo's to the parents as you couldn't ask for more down to earth young men. We saw the two square off in one on one's a few weeks back at our Barton Elite Event in Portland. For the most part they were even as the top upperclassmen wondered how these two were 9th graders. Head BFA DB coach coach Aaron Kincy, out of Florida and Portland St, went nuts when Molden picked off a top junior QB/WR combo at the event. You can see the congratulatory rush by Kincy and the other players at the Barton Elite Event Video posted above.
Newberg will transition from the Pacific Conference to the brutally tough TRL next year, giving Adams and Molden a chance to play against each other for the next three seasons. Speaking on his squad Anthony says, "People took notice of our team last season and we expect nothing less then a mid round playoff run next year". Adding, "Personally I just want to contribute however I can to help us reach our full potential."
Adams will be a kid that rarely comes off the field as he could be one of the better players in the state as a sophomore. His primary spot will be at quarterback offensively and safety defensively, but he is athletic enough to play 4-5 different positions. His brother Darnell is a standout at Portland St, but I think he would even tell you that his younger brother is on another level.
The Tigers return some talented kids and have a very impressive youth movement coming in under head coach TJ Tomlin. Both Adams and Molden will be individuals that we see recognized nationally in the coming years, as they represent all that is good about our high school athletes on and off the field.