Click for Brody McKnight Highlights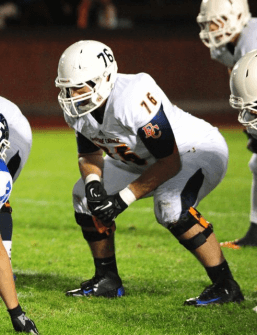 There aren't many freshman that see significant playing time in the State of Washington, but those who do are usually pretty special. Eastside Catholic (Sammamish, Wash.) offensive lineman Brody McKnight had a great freshman campaign, and with a great work ethic, looks like he could be one of those special players.
This season McKnight started all 14 games for the Crusaders, who finished 2nd in state for the 2nd straight season. When starting center Alex Neale went down with an injury in a week 10 cross-over game, the Eastside Catholic coaching staff didn't hesitate to move McKnight to the offensive line's most important spot.
"It was a little bit crazy starting varsity as a freshman," McKnight told NEI. "I'm really glad coach T-bar gave me the opportunity, and that coach (Wes) Potter got me as ready as he could. All the guys at EC were really cool, and Alex Neale kinda showed me the ropes, right from the start."
His teammates were just as confident as the coaching staff was in McKnight, and see plenty of potential with three full years left to play.
"Brody did an incredible job at guard, and even the time he played a little center towards the end of the year," junior Alex Neale said. "Moving on to this year, I expect Brody can bring much more to the table moving on from his freshman year with already seeing the best we're going to see in Washington in the biggest possible atmosphere, especially with the incredible size he already possesses."
McKnight was voted as an Honorable Mention this season by the Metro League's coaches, but that was just a tip of the iceberg as far as post season accolades are concerned. In January he played in the Eastbay All-American Game in San Antonio, Texas. This event was at the same time as the US Army All-American game. "It was a really cool experience, and seeing the Army All-American guys up close, really showed me what I'm shooting for," McKnight said.
This was actually the second straight year McKnight has played in the Eastbay game, and he says he began training hard with a focus on football after last year's game.
"I've been playing football for 7 years. I tried other sports, but football is what I love," McKnight added. "I actually started going to the Barton line camps in like the 5th grade… I think it was when the line camps first started… I was always the youngest kid there, doing drills with guys who were already in high school… but they were always really cool to me."
The offseason for McKnight is packed with training at various camps. The six-foot three-inch, two-hundred and sixty pound mauler is working hard in the weight room as he looks to reach his many goals.
"At the start of the season, my dad & I set some goals," he noted. "First was to make varsity. Then to start on varsity. Then to make the conference list. I feel really good, because I got all those done. Now, I have some more personal goals, but the most important one, is the one that all of us EC guys are working for… That's winning a state title."
McKnight and the Crusaders will have a great chance to accomplish the "important one", as they return as much talent as anyone in the state. I look forward to watching McKnight over the next 3+ years as the sky truly is the limit.