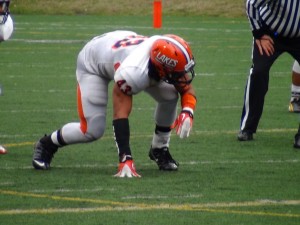 Since we first saw him as an eighth grader, Lakes (Lakewood, Wa.) DE Benning Potoae has been one of the top projected prospects in the 2015 recruiting class to come out of the state of Washington. He recently took a trip to the University of Washington for their junior day and he updated us on that visit plus where things stand with the rest of his offers.
"It was great to get up there and meet with the new staff," Potoae told Northwest Elite Index. "I'd already been up there a lot with the old staff there because of my brother (Sione Potoae) and because they were recruiting me too.
"This was my chance to meet the new staff and get to know them a little better and I felt really good about how things went with them.
"They reaffirmed my offer and said they really liked how I play the game and what I can do on the football field, but they also like it that I take my academics seriously so they said they want me to be a Dawg and all that stuff."
At 6'4″ and weighing in at 255 pounds, Potoae has been a physical freak since we first got a look at him as an eighth grader at a local camp.
Over the past two years, the talented prospect has been the focus of every offense his team has faced and thus he's really had to work hard at putting up stats to go along with the lofty expectations heaped upon him.
"It's been tough, but I just keep going, keep grinding on it," Potoae noted. "I had 66 tackles and nine sacks this year and I also played tight end and I had three touchdowns on offense.
"I do whatever my team needs from me. I love to play and compete and I like it that I don't really come off the field much during the game."
On the recruiting front, aside from him interest and offer from the Huskies, Potoae recounted his offers as well as which schools he plans to visit this spring and summer.
"I have offers from pretty much all of the Pac 12 except for Stanford," Potoae noted. "I know for sure I have offers from Washington, Washington State, Oregon State, Arizona, Arizona State, USC, UCLA, Utah and Colorado and I'm almost positive I have offers from Cal and Oregon, but I don't have my letter right here so I am not 100% sure on that.
"Boise State and Idaho have also offered me and I have Michigan, Florida State, Alabama, LSU, Arkansas and Ohio State all after me too.
"Alabama said they want to see the start of my senior season before they offer and Ohio State said they want to get me out to their camp to see me in person before they offer, so I'm most likely heading out to their camp this summer.
"I also know I'm going to go to all of the U-Dub camps this summer and I'll probably hit the Oregon Nike Camp too."
As far as his timeline is concerned, Potoae said he wants to take all of his official visits before he commits to a school.
"It'll be after my senior season for sure," Potoae noted. "I want to see all of the schools and just take my time. With my brother, he already went through the process before so I have sorta seen how the process works and that will help me make my decision and it'll make it so that I don't rush it."
We will continue to keep tabs on Potoae's progress this spring and summer and we will have updates on news as it happens with him in the future.