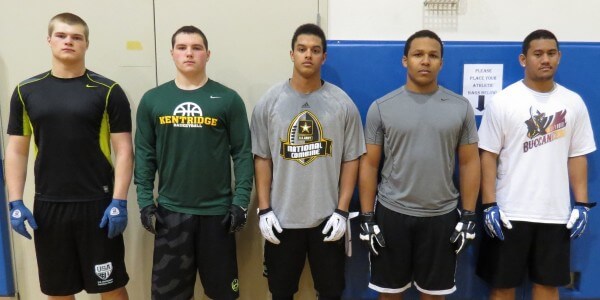 Click for Barton Elite Event Video
The Barton Football Academy resumed Elite Events this past weekend after a two-week layoff due to the Super Bowl and a snowy weather cancellation. We feel fortunate to be working with the State's top athletes, and this week is no exception.
The group of Linebackers is as good as we have seen so far this offseason. Barton Football coach Dion Alexander determined that Joel Dublanko was the day's Most Outstanding Performer. Dublanko continues to impress as he gains more and more national attention. Chris Tuiasosopo of Federal Way wasn't far behind in his overall performance. Tuiasosopo is big body that moves really well. When our 2015 rankings come out in the next few weeks, you can expect his name to be near the top.
Braiden Beckman and Grant Williams are regulars and events, getting better by the week. Both players are very physical and will also be highly ranked. New to us this week were Trevor Davis and Shane Ward ('15 Rogers). Davis very much looks the part, and dominated in both pass rush situations and in coverage. He was very close to getting honored for his work on the day. Ward showed good mobility and was also very good in pass situations. He is a player we expect to see grow over this offseason and could begin to rise in the rankings.
Two younger players Gavin Armitage ('16 Capital) and Jesse Sims ('17 Bothell) showed up and did very well. While rankings may be a bit far out for them, they both showed abilities that could rank them near the top of their class.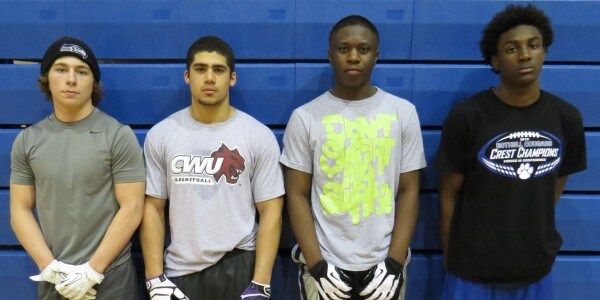 The Wide Receiver / Tight End group continues to be one of the more impressive groups week in, week out. Barton Football coach Mike Bush was torn between two players for Most Outstanding Performer, and picked Dayzell Wilson and Christian Stafford ('15 Todd Beamer) to share the award. Wilson was recently ranked as the Co-#1 WR in the 2015 recruiting class, and it should be no surprise he is listed here. He is as good as anyone at creating separation, and as he continues to grow the sky is the limit. Stafford is a big physical receiver that came to us just a few weeks ago. He instantly impressed and even earned an invite to the Las Vegas 7-on-7 Tournament.
The 2015 recruiting class was well represented. Added to the Co-MOP's, Rashaun West, Tevin Gray, Triston Wedington (Sumner) and Devon Jackson (Lindbergh) solidified their rankings, and may have even upped their stock. This was Wedington's first event, and we are very excited to see him grow over the next few months as he heads into what could be a big senior season.
Lakes High School is known for producing top end talent, and we have been fortunate to see many of them come through the Academy. Two 2015 WR's making their first appearance this offseason were Bryson Foster and Mac Downing. Both showed above average route running and good hands, which you almost come to expect from the Lancer program.
Bothell TE Cole Ford ('15) had a very nice day, both blocking and receiving, and will be towards the top of the 2015 rankings. Eastside Catholic's Connor Heger ('15) has shown up every week and continues to impress. Connor is multi-talented and headed to the state wrestling tournament this weekend after winning his regional tournament last week.
The 2016 and 2017 recruiting classes saw a number of impressive performances this week. TE Evan Clasen ('16 Mount Vernon) is a big body that is getting better by the week. As he begins to fill out, he will be a force to be reckoned with. Riley Krenz ('16) and Hunter Eckstrom ('17), both from Lake Stevens, have shown week in and week out why the Vikings are considered by many to be league favorites next season. When coupled with Tevin Gray, they might have the best receiving corp in the state. Juanita's Dean Sise ('17) is a regular at events, and is considered one of the top targets and Kingco 3A. Expect big things from Sise over the next three seasons.
Last, but certainly not least, is Kyle Olson-Urbon ('16) from Peninsula. Having seen his film earlier in the week, I was very excited to see him in person, and he did not disappoint, even earning himself an invitation to join us in Vegas for a 7-on-7 tournament!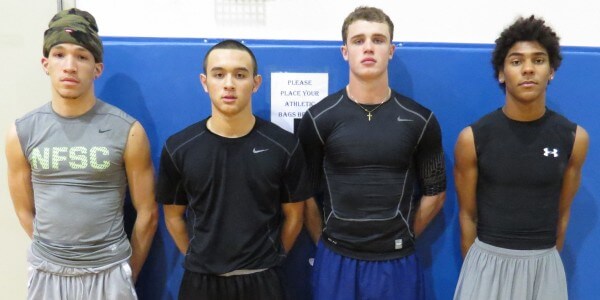 The quarterback position is really what the Barton Football Academy was built on. Many of the region's best have grown up in the Academy, or spent a majority of their amateur career working on a weekly basis on it. This week's top performers were split between Jacob Eason ('16 Lake Stevens) and Casey Brink ('15 Bainbridge). Eason is one of the top QB's in the region, regardless of graduating class, and continues to get better. Before all is said and done, he should be a double digit offer athlete. Brink is a player that many may not know, but should be paying attention to. He is a multi-talented athlete and one of the hardest workers I have ever seen.
Robert Kvinsland ('15 Peninsula), Isaiah Weed ('15 Bonney Lake), Cameron Scrimgeour ('15 Arlington) and Griffen Stacy ('15 Rogers), are four of the better upperclassmen heading into the 2014 season. Kvinsland and Weed were ranked highly when our rankings broke a few weeks ago, and continue to solidify their ranking. Scrimgeour and Stacy are relatively new to us, and will both be moving onto the rankings board at the next update. Scrimgeour is also very talented defensively, while Stacy is in line for his chance to shine this year, after sitting behind one of the better QB's in the conference the past few seasons.
Mount Vernon's Tristan Brock ('15) made his first appearance of the offseason. Tristan is a big body, that projects to the defensive side at Linebacker, but works at QB to help better his abilities on offense. He will be highly ranked at LB, but showed great arm strength, accuracy and overall athleticism this past weekend. Future events will see Tristan work LB at the Elite Session, and QB at regular training so he can help himself and his team.
The Juanita Rebels consistently send two QB's to Barton Events. Tavin Montgomery ('16) and Dexter Mell ('17) both show up and compete every week. Montgomery is a two year starter, while Mell saw plenty of action last season as a freshman. The Juanita coaching staff has a good problem on it's hands, as both are very capable of starting for a lot of teams in the region.
Three small school QB's show up every week and work with the big school talent. Darrington's Trent Green ('15) projects as more of an athlete, but has shown very capable at QB, and is primed for a big season at the 2B level. Jake Herzog ('16) of Montesano looks to continue the tradition of good Bulldog QB's, and should be considered one of the better athletes in his class. Capital High School's Cody Jenkins ('16) isn't your average Wing-T QB, as he is very capable as a passer, and gets better with every rep.
Rowan Parmenter ('17 Cedar Park Christian), had an impressive freshman season, and is working hard through the offseason to get better. I see Rowan at almost every event I attend, and he is usually one of the most consistent QB's. Kentridge's Jordan Lawson is a was a first timer this week and showed can hang. He is a part of a group of Chargers that attend the events and work very hard.
The only QB at the event that is not currently in High School is Dylan Morris ('19), who will eventually attend Graham-Kapowsin High School. The fact that he is only in seventh grade and has been invited to work at Elite Events should tell you everything you need to know about Dylan.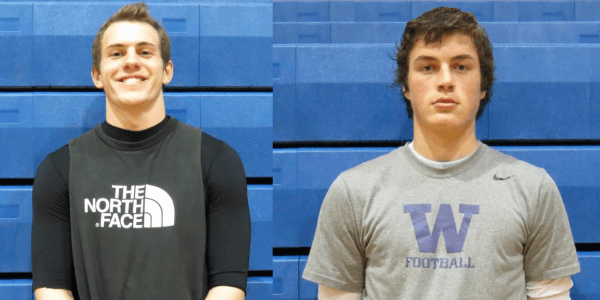 Barton Football Academy coach Willie Hurst boasts about his RB's every week. This week he was especially impressed and had a hard time naming the Most Outstanding Performers. In the end he would pick Co-MOP's with Ethan McElderry and Elijah Clayton taking home the honors. McElderry is a speedy back, and will see time this coming season in the slot for Bonney Lake. When our 2015 ATH rankings are released, expect to see him in the top 10. Clayton plays QB at Renton, but projects more as a RB/FB or LB. He has a body built for either position, and good all-around athleticism.
Another 2015 prospect to watch is KeJuan Coleman (Cascade). He finished an impressive junior season as a second team All-Wesco selection, and will be moving up our rankings board at the next update.
Three 2016 RB's that caught my eye were Easton Trakel (Tumwater), Lathom Kelley (Coupeville) and Sam Wysong (Bainbridge). Trakel is considered an ATH, as he projects to the SLOT, but is a very capable back as well. He will see lots of action this year for the Thunderbirds, and was recently invited to be part of our 7-on-7 team in Las Vegas. Kelley has been a warrior, travelling by ferry to Elite Events, and working hard every week. Wysong was making his first Barton Football appearance and looked right at home. He has good speed and is a player I am excited to watch as he heads towards a season that should see plenty of carries.
Peninsula's Major Ali ('15) may be small in stature, but he packs a punch. He projects as a FB, and did very well in the pass protection drills. Connor Wedington ('17 Sumner) is an exciting prospect. As he continues to grow, he will get bigger and faster. I am a big fan of the Sumner program, and Connor is a player I look forward to watching.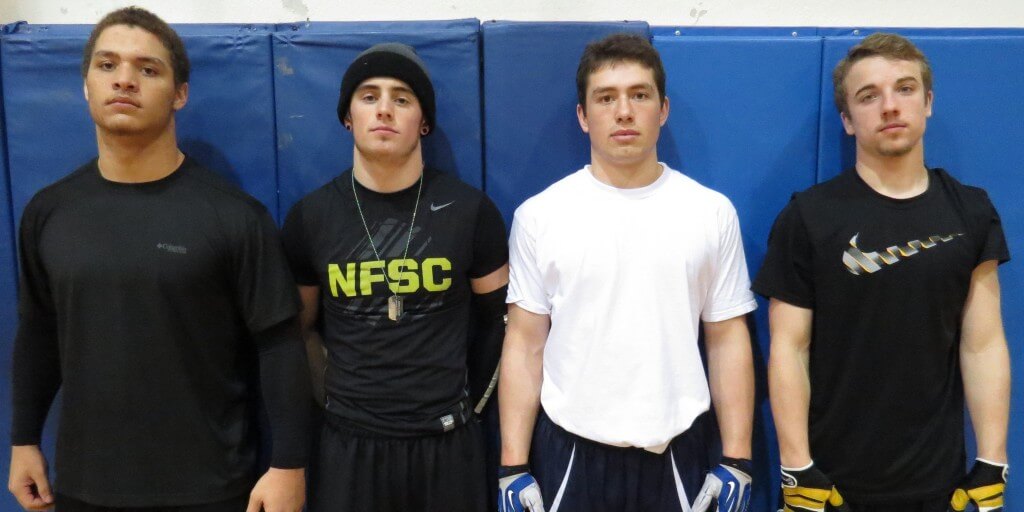 Quality over Quantity is the name of the game for the defensive backs. Barton coach Greg Prator was very impressed with the overall talent, and Todd Beamer's Brody Martinez ('15) was awarded the Most Outstanding Performer. Martinez is a physical two-way player that is a big reason the Titans are generally considered to be a team that will have a great turn around.
Three of the state's top 2015 DB's were also in attendance as Antony Randolph (Kentridge), Dashay Ware (Todd Beamer) and Kemonee Jenkins (Lakes). Randolph and Ware never miss a chance to workout. Both athletes will be ranked highly and have been invited to join our Las Vegas squad. This is the second straight year Ware has been invited to Vegas, and he is expected to be one of the better players from Washington. This was the first appearance for Jenkins at a Barton Event and he certainly impressed.
The 2016 class was represented well by Keon Mayeux (Lincoln) and Taylor Rapp (Sehome). Rapp is well known around the recruiting ranks, and Mayeux was making his first appearance. Rapp has received and invitation to Las Vegas, and Mayeux is on the verge of one, where he would join Lincoln teammate Dehonta Hayes.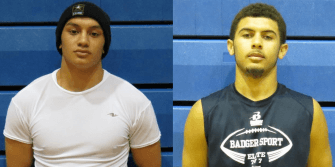 The lineman session was light on numbers, but they will be growing as wrestling comes to an end. This week's Most Outstanding Performer was Robert Savusa ('15) of Federal Way. Savusa is a strong two-way player that compares to former Federal Way player JayTee Tiuli (Eastern Washington).
Two 2016 lineman to watch from the Wesco Conference are Nicholas Blair (Everett) and Joshua Watson (Cascade). Blair is a regular at Elite Events and is always the biggest task for any OL to block. He has gotten much better with his feet and is a player you will want to keep an eye on. Watson attended his first event this week, and instantly impressed. He is a weight room junkie, and is referred to as "The Prodigy" by former Bruin lineman Randin Crecelius (Portland State).
Taariq Vanegas ('15 Seattle Prep) is a player I really like. He is a great student and a very hard worker on the field. He is very young for his recruiting class, and is just beginning to scratch the surface of his potential.
The Coupeville Wolves sent two lineman this week in Brendan Gilbert ('16) and JR Pendergrass (16). Head Coach Tony Maggio likes both athletes and knows he will be relying on them this season. They may not have the big time size, but they do have a level of work ethic you simply can't teach.