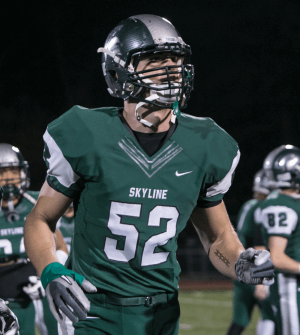 Skyline (Sammamish, Wa.) LB Cameron Saffle has patiently waited for his first offer and that was rewarded on Wednesday when Idaho became the first school to extend an offer his way.
"Just got offered by Idaho," was the text message Saffle sent to Northwest Elite Index.
The offer from the Vandals is Saffle's first and could be joined soon by some bigger schools like Washington, Washington State, California, Boise State and Oregon State among others who are showing him a lot of interest.
"Those schools all want me to come to their camps and I'm looking into that right now," Saffle said a few weeks ago. "I went to Washington's Junior Day and I'm planning to go to Washington State's next month and I've been in touch with Cal too, but haven't firmed up when I will go down to visit them yet."
As a junior this past season, less than a year after he tore his ACL, Saffle rebounded by posting 62 tackles, five tackles-for-loss, 11 sacks and an interception.
"I had a good year, but I know I can play even better," Saffle said. "I just need to keep working and getting stronger and faster and the rest will come."
With his combination of size, speed and football instincts, the 6'3″, 221-pounder is a prospect to keep an eye on this spring as more and more schools get a look at him. He could be one of the fastest rising prospects in the state of Washington this year with a good spring and summer and should have his choice of schools before the start of his senior season.