Click here Korye Trejo Highlights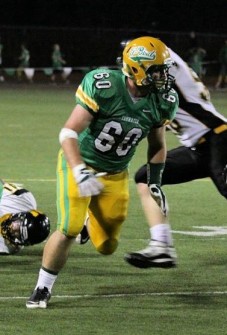 One of the top unsigned lineman in Washington is Korye Trejo (6'1″ 260) of Tumwater High School.
Trejo is a four-year varsity letter winner, and saw time on the 2010 State Championship team. He was a first team All-Evergreen Conference player the past two seasons, as the Thunderbirds finished as the state runner-up both years. All in all, Trejo finished his high school career with a 48-6 record.
The classroom is something that is very important to Trejo, as he was a first team All-Academic member every year back to his freshman season, and currently sports a 3.488 unweighted GPA.
Right now Trejo is being courted by D-3 schools like Linfield, Pacific, PLU, Whitworth and George Fox.
"I want to play college football because I love it… there is no other way to say it," Trejo told NEI. "I have played football since I was in second grade, it has always been my first love, also it was my grandma's dream to see me play college ball."
Trejo has a "hit first-ask questions later" mentality that you like in a lineman, playing each down to the whistle. Before this year's state championship game vs Lynden, Trejo said something that resonated with me, "There is no tomorrow. After these last 4 quarters of football, it's over, so if I have to by carted off that field at the end of it, then cart me off because I'm not coming off unless I absolutely have to."
Many kids say they just want to play college football, and with Trejo, that is exactly it. "I feel I can play college ball, I just need a coach to give me a shot," Trejo says. "I would give him everything every day no matter how sore or tired I would play any spot needed I would play punter if they asked I would always try to go lay someone out but I would try to be the best punter possible."
Keeping his options open, Trejo has signed up for the Barton Football Winter Showcase on March 1st.
"I am hoping to go to the showcase and have a good time, with good people, get hard work in," Trejo said. "I want to show some coaches that there are still some great players out there, players who are disciplined and hard working. I would love to find a coach that would give me a chance but, at the end of the day I want to just have fun and enjoy the event for the last time."
At the end of the day Trejo just wants to play football. If this is his last football event, he will enjoy it. Personally, I believe there is a school out there looking for a player like Trejo. I think he has been overlooked and at the end of the day will find a college that fits him, and that college will be rewarded.