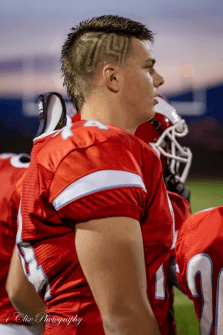 It's been a hectic month of February for West Valley (Yakima, Wa.) OL Shane Lemieux. He recently added two new offers and the promise of a third to the three offers he already had and can now, rightfully, be considered a national recruit.
"Got an offer from the (South Carolina) Gamecocks," Lemieux said in a message. "I also got an offer from the Idaho Vandals tonight and Cal said they will offer tomorrow."
The new offers join the three that Lemieux already had — Oregon, Washington State and Boise State — and he's getting interest from several other programs including the University of Washington which has asked him to attend their Rising Stars camp this summer.
Lemieux had a solid junior season for West Valley last fall, starting both ways, and was given All-Big Nine Conference Honorable Mention honors for his efforts.
At 6'6″ and weighing in at 285 pounds, Lemieux is an impressive looking athlete for his size and has already started two seasons at left tackle and added playing time at defensive end this past season. Even with his versatility and two-way playing time, he said he sees his future on offense.
"I'm a better run-blocker right now than I am a pass-blocker. I mean, I excel at both of them, but if I had to choose one thing I'm better at it's definitely as a run-blocker," Lemieux said. "I think my best opportunity to play in college is on offense. If I were to play defense, it would be inside at a defensive tackle spot and I just think, in the long run, that it's better for me to play offense."
As far as camps are concerned, Lemieux noted he plans to take in Oregon's "trench" camp, an FBU camp and may even attend the Rough Diamonds Showcase depending on his schedule.
"I just like to get out and work and compete," Lemieux added. "I love playing the game and the more I work at it the better I will be."
We will continue to keep track of Lemieux and his progress through the recruiting process and we will continue to update news on him as it happens.